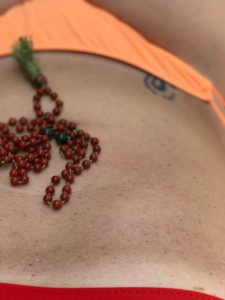 I'm going to tell you a story that has five parts. Five, I've learned, is associated with the universal symbol of the witch. When connected, they form a pentagram, which is the very same design you'll find when you cut through the center of an apple – you know, the one that made Eve the patroness of Nasty Women? No coincidence, right?
I'm telling you this story because, while deeply personal to me, I'm starting to see how it's bigger than just me. I've been doing this work for nearly twelve years now, so this isn't a new awareness by any means, but it seems to continually smack me upside the head in bigger and bigger ways.
And if you're reading this, maybe you're starting to get that, too. Maybe you're getting curious about your own story as a woman. Maybe you have a daughter and you're watching her wondering if her story will be different than your own. Maybe you're wondering what the hell is going on in our world and you're questioning everything you've ever been told or believed about being a woman. Maybe you'll recognize yourself in these words—in this story—and it will create an opening in you. For you. To go into.
I dunno. But there's one way to find out, eh?
Part 1: My story begins with my body. Because truly, doesn't every story begin with our bodies? I wrote about it recently on Instagram, feeling vulnerable and self-conscious as I did, but also thinking, "I can't be the only one experiencing this…" And sure enough, I wasn't. Because I heard from you offline (which is telling that it's still not entirely safe talking about our sexuality and the power that lives in our bodies publicly in the comments).
I wrote about how I had been terrified for months that I had cancer—or something equally devastating. What began as a head cold back in March, sort of settled in my throat and never really went away. It lingered and then got worse, giving me the sensation of having one of those large marbles lodged in my throat. Sometimes the sensation moved down into my chest, having me feel short of breath, never allowing me to get that last full part of my inhale, just like I did when I was very pregnant with my babies and was carrying them high. I just. Couldn't. Breathe. I found I was putting my arms above my head and grabbing onto the tops of doorways in my idle moments, hoping to create just a bit more space inside me for my breath to enter.
In the back of my mind, I knew it had everything to do with what I had just lived through in my woman's body following November's election. I remember the sensation of that night, and the wise voice in my head that started speaking shortly after that, cautioning me about staying whole, helping toxins to move through my body, and the need to feel my feelings.
So, like many women did, I got my ass to a crackerjack therapist—a new one—who helped me to cry my tears and give voice to the truth and the anger and the despair that was bubbling up in me. I gradually got off Facebook and started turning off the news.
I also started writing my second book—the one about women not waiting (to do that thing, go for it, make it happen, step into the arena, live their life, lead)—which was flowing out of me like hot lava at the time.
The marble in my throat got bigger and more time passed. I got better at living with it, ignoring it most days and powering through it. I doubled down on things like gratitude, prayer, and solitude, but I also stopped moving my body. I started holding myself still. At some point, I became frozen, like one of those mosquitos stuck in amber. I told myself I was stressed, heartbroken, angry, and that it would eventually pass. But inside? Inside I was terrified I had finally pushed the needle too far. Inside I was convinced the other shoe was about to drop.
Eventually, I got worried enough that I decided to seek counsel from the world of traditional medicine, feeling like I needed some concrete data on my body to put my over-active mind at ease. I was ready to know. I started with a full work up with my blood, and when that came back "normal", I felt something in my body exhale. When the kind doctor looked down at me after completing my endoscopy and said, "You don't have cancer. You're perfectly normal", I sobbed and sobbed and sobbed. More relief. I looked up at her, this stranger, and asked, "So this is stress?" She nodded.
Which honestly, was a relief, but was also a source of shame. How could I let this happen knowing what I know? I knew better, and yet I let this get to me—get inside me. And more shame: I couldn't talk about this because I had no right to complain…I am white and have so many privileges as a result—who am I to complain about the stress getting to me? But you know what? None of that mattered. My body patiently waited with its marble while I made my way out and about and finally, back into my body.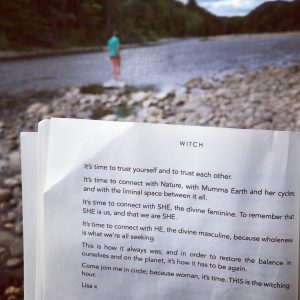 Part 2: Then my witch woke up. With a twinkle in her eye and a full body stretch. It seems she had been waiting for me. It began in earnest when I started reading Lisa Lister's mind-blowingly awesome book Witch. Always a fan of anything prefaced by "Un", I was immediately drawn to the subtitle: Unleashed, Untamed. Unapologetic. Having written a book entitled Unscripted, I immediately sensed that this woman was a soul sister living across the pond.
I'd always loved the word "witch", but tended to use "witchy woman" so as to differentiate my meaning from its identification with Wiccan, which is a specific spiritual practice I don't necessarily adhere to. That being said, in recent years women have been referring to my women's circle as their coven, so there's that.
Lisa defines a witch as this:
"The witch represents the part of each of us that has been censored, ignored, punished and demonized. And it's a part that wants—no needs—to be accessed and fully expressed. The witch is a woman fully in her power. She's in touch with the dark. She knows how to be the witness, how to let things go and how to follow her own counsel. Most importantly, though, she questions EVERYTHING. She's connected, pussy to the earth. She hears the whispers of those who have gone before her, and she feels the ancient secrets that are in her bones. She's the one who knows without fail that there's more of this life than actually meets the eye. She causes hierarchical power structures to shake in her wake. She knows that in any given moment, she can be a hot mess, a woman of grace and beauty, angry and grief-struck, loved and pleasure-sated, tired and soft or raw and vulnerable. She also knows that in some moments, she can be all of this at once. She is whole."
Yea. That.
That is what I have been referring to all these years as "the and". That was why I needed to write my first book for myself—to sort all that shit out and to reconfigure myself in a way that made sense to me—that allowed me to see the fullest range of myself, to grab all that is within me without apology, and then to put it to use in the world.
I'll never forget where I was when I was reading her book. We were camping on the shore of this beautiful river, and it was like the sounds of the water moving over the rocks matched the words on the pages I was reading. It reminded me of the currents inside myself that would always lead me home. Inside my body.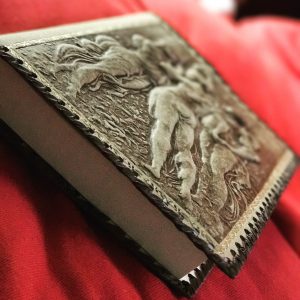 During our three day stay on the river, my youngest son and I made it into a sacred place, erecting over twenty tall cairns of stones all along the shore. I felt like a witch, and I watched as both my husband and my son looked at me, and were drawn to me and the power I was clearly tapping into.
I came home from that trip and found a package resting on my doorstep. It turns out it was a random "just because" present sent by one of my oldest and dearest friends. She had taken a trip to Italy with her daughter this past spring and she wrote: "Saw this in Florence and immediately knew it was for you." I opened the package, and a tsunami of energy washed over me—a combination of gratitude, love, serendipity and what I can only describe as witch-power. My hand flew to my chest as I picked up the leather bound journal that featured an embossed rendering of Botticelli's Three Graces.
Not two days before, I had said aloud "I need a grimoire to write down all this stuff." And now here it was.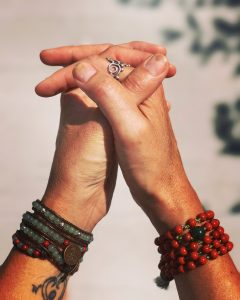 Part 3: I got to work healing my body with my body. Meaning: I handed the reins over to my body and said "you steer". I did what I could to get really quiet and I made more of an effort to listen. I tried my best not to laugh or dismiss the ideas that rolled into my consciousness, like when I couldn't get the word "jasper" out of my head and finally looked up the significance of that stone and then made a new set of mala beads out of them and bought a jasper yoni egg so I could both wear that stone as well as carry it inside me. All hands on deck. Full court press.
I cracked open my grimoire and I started becoming a student of what I already knew deep down inside me. I started unearthing wisdom in myself that felt exciting and new as much as it did affirming and ancient.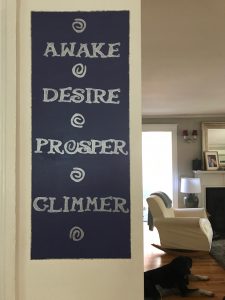 I pulled out all my essential oils and started to use them with intention. I allowed myself to be drawn to certain colors. I paid attention to my appetite and what I was hungry for—and gave myself permission to not eat for long periods of time if my body didn't feel like it, even when it was "time to eat". I started to make
a more direct connection
for myself between my sexuality and my vitality—an awareness that had been building in me for a while, but that got hijacked by my brain so easily in this world of busy and doing and thinking. I started to crave making teas and concocting things like rituals and spells and magic. I started to consider the fact that there was more power in me than I realized—like I had been using just the little finger nail of my pinky, when, in fact, I could be using the entire hand. And my full body. I started to use the phrase "I desire" and then smiled when I realized that is the very same word I chose in January to be my word of the 2017 when we painted our words as a family on the wall of our kitchen.
I knew how to do this.
Part 4: I followed where my path led me. Yesterday, when I was flat on my back getting a "massage" (I put massage in quotes because this woman is clearly a mad-skilled wild woman witch who does more than simply work with my muscles…), I felt her hands and energy be drawn to my heart. She knew about the marble in my throat—I had shared that much with her—and had asked her to tune into the conversation my body was trying to have with me. She put one hand under my body between my shoulder blades and the other she placed lightly on my chest. And she held them there. For a while. Until I felt this wail build up from the depths of me (Oh no, I'm going to lose it…shit, here it comes…stand the fuck back, it's gonna blow!), and I made sounds that I'd only heard myself make one other time…when I was in the depths of labor birthing my sons. As her hands held steady, my body convulsed with sobs underneath them. One passed, and another started to build, like waves hitting the shore after a storm.
Then, she flipped me over onto my stomach and put both hands on my back. I heard her ask out loud (to my guides, to her guides, to the universe…) What IS this? I was so relieved to have someone other than myself asking that question. A moment later, she said "Mama Bear energy", and again, I sobbed, this time with anger at the injustice, violence and whole-scale systematic oppression of women that now seemed publicly sanctioned. Apparently I had been carrying that around on my back, reluctant to put it down lest I forget it.
Needless to say I was spent. Wrung out like a sponge.
My "plan" had been to go to this massage and then pop into a coffee shop to crank out some client work before heading out on my August break. She knew this plan, and after working me for much longer than we both had anticipated, she gently suggested that I take a moment before shifting gears—
"…maybe take yourself to the water…" 
Which I did. I found a country road and followed it along the coast until it ended. I just keep taking these big huge sighs, and with each one I felt a bit lighter.
I came to a place along the water and pulled over, thinking I would literally get right by the water, maybe even in it.
I wasn't supposed to be here. I hadn't planned on it. I didn't have time for this. I had a mountain of work to get through and here I was just…wandering. I was going to disappoint someone because shit wasn't getting done when I said it was going to get done. Why couldn't I just focus, put my head down and get it done? That's the gist of what my tired brain was saying.
But my body? My body said YAAAAAAASSSSSSS. This is where you are now. Right here is where you're supposed to be.
So I plopped myself down, pulled out my mala beads (I wear them around my neck for just this occasion…) and went through all 108 of them. When I was done, I opened my eyes and looked across the water at this rocky ledge that was jutting out. And that's when it hit me.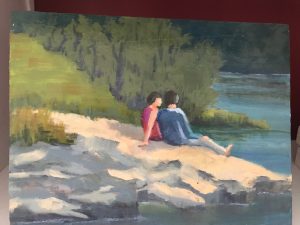 I'd been here before. Right in this very spot, only last time I was out on that rocky ledge, talking about my life and my business with a trusted friend. It was almost exactly six years ago. I was at a crossroads in my life—wanting something more, but not really knowing if I was worthy of it or could pull it off. You know, that
Who Am I…?
conversation Marianne Williamson talks about. Sigh. That one.
The conversation on that day was a catalyst for me to make some big changes at SheChanges. Shortly after that I completely re-hauled my website, clarified my brand, stepped away from what felt stale and no longer served me, and grabbed ahold of the idea that would become SheSpeaks, the ever-popular evening of women's storytelling that, ultimately, was the springboard for my first book to be born.
What my friend and I didn't know at the time was that there was a woman who was painting us as we were sitting out there. We had seen a woman with an easel, but we weren't aware that we had ambled into her field of view and become subjects in her painting.
And here's the really cool part. My friend? She managed to track down the artist, buy the painting, and give it to me with a note that read: As a symbol of our friendship and women making change in the world. For years, I had that painting packed away, but just found it again last year and put it on our bookshelf. When I came home yesterday, I flipped it over on the back and saw that the artist (who's name, sadly, is illegible…) wrote: Solving? or Creating? Problems!
I shit you not.
Part 5: Coming full circle. Which brings me to where I find myself today.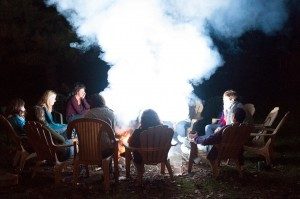 Driving over to that spot yesterday—long before I realized where I was heading and what its significance would be—I had this thought: 
I gather the witches. And sometimes the men who love them.
I was thinking about the event that scares the shit out of me this September, and the six brave women who will join me on stage this December at SheSpeaks, and the six women who will gather with my for my women's circle this fall and winter. I was thinking about the men's group I have almost had on multiple occasions, that feels more timely now than ever. I was thinking about the second book I am writing that has my hair on fire and can't come out fast enough.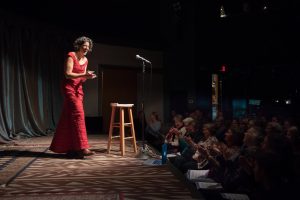 But I know I am poised at another crossroads in my life now. Sitting there yesterday thinking 
Who am I…?
 with that marble in my throat, holding back my heartache and anger for fear of….what? It's power? It's impact? My safety?
And like that day on the rocks, I already know what my answer will be. It's the same one it always is: Yes.
Why? Because that's the witches' word. A solemn oath. An ancient promise that has me coming full circle again and again and again. Walking my path with as much courage and moxie as I can muster in my white, privileged woman's body.
Want to hear more stories like this? Check out my Unscripted Evening coming up this September 28th in Yarmouth, Maine. Tickets are now on sale.
And if women's storytelling is your thing, save the date for this year's SheSpeaks being held at One Longfellow Square on December 7th. The theme is "Life In The Arena" and tickets will go on sale November 1st.