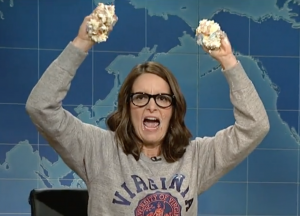 For most of my life, I have been accused of being angry. I say "accused" because it very much felt like that. Words like
vicious
,
ruthless
, and
combative
would attach themselves to me, and I accepted them, feeling ashamed, like I was
too much
for people to handle and therefore needed to be
really
careful with how I show up in the world lest I inflict harm.
I was told to pipe down, just relax, cool my jets, get over it, let it go, pick my battles, and move on. Sound familiar? 
On the playground in elementary school, I used to get in the face of kids who were nasty when the teachers weren't looking. In middle school, I used to look directly at bullies through my tears and call them out on their actions. In high school, I used to speak up when kids used others as stepping stones (or public punching bags) to make themselves look and feel more powerful. In the corporate world, I blurted out comments when the emperor had no clothes or bullshit was being served up on a platter. As a parent, I did not turn the other cheek when shit was going down.
All of this made me wildly unpopular at times. I was, of course, singled out by the bully when I diverted the attention to me. I sealed the fate of my dorky outcast status in high school. I was tightly managed in the corporate world. And I felt like a pariah at pick-up time from my kids' schools, sports sidelines and dinner parties. At one point in my mid 40s—when my give-a-shit meter was just starting to go on the fritz—another mother actually cautioned me to "be nice" as  I was walking into a school community gathering.
As a result, for most of my life, I tried to walk this razor thin line between taking a stand (which had me speaking up) and muting myself (which had me playing small). I harbored this secret shame that I was unbelievably cruel and mean and capable of  doing some serious harm. In short, I battled this chronic fear that if I weren't careful, I would use my powers for evil, not good. I became afraid of feeling angry, and learned it's best to keep that shit under tight wraps lest I express it outwardly and lay waste to everything I hold dear.
It wasn't until I started questioning my own beliefs about myself (you know, the ones I had been given and swallowed whole without chewing?), that I started to see there was an enormous gap between the words I'd associated with myself and people's actual experience of me. Big. Huge. Gap.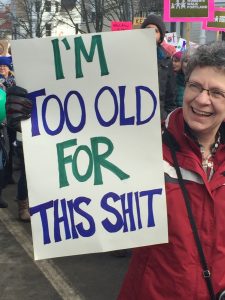 When I had a really honest conversation with myself and pulled out the feedback, cards and emails I'd collected from clients over the years to examine the actual comments about my work and people's perceptions of me, I could finally see what I had missed. It turns out the most common descriptors of me were: warm…big-hearted…make me feel safe..honest…keep it real… inspiring… feel like I can be myself, can say anything…
That was a watershed moment for me.
I realized that somewhere in my youth, I had been called vicious and ruthless or mean maybe a couple of times by a couple of people, and because of its impact, it stuck. I assumed it was true and  never questioned it. Until about 30 years later.
I wrote about this in my book, telling my story of facing and unpacking anger for myself and how I reframed it and, ultimately, reclaimed it. Because you know what lived inside that bundle of shame? My truth, my voice, my effectiveness as a leader, and my ability to affect change. Today, anger, as it relates to women, has been the single most requested topic people want to explore with me during interviews, book readings and storytelling since releasing my book.
Now all this is not to say that I can't be mean (I can), and that I'm not capable of hurting someone with my words or actions (I do), or that I'm now magically fearless or unfettered (I'm not). My (big) heart still beats wildly in my chest right before I say something out loud that I know will be unpopular, hard to hear or will challenge the status quo. I still replay the video tapes in my head afterward, double-checking myself. Am I mean? Am I blind? Am I delusional? 
But now? Those are genuine questions born out of true curiosity, not out of desire to participate in my own shame. Those questions keep me honest, not small. Those questions keep me humble and connected—living from my heart and my light, not from my head and a desire to hide.
I know I'm not alone, and that helps give me courage. I hear similar versions of the same story from women who make the move, step out, speak up, use their voice, and show themselves. So often those stories begin with being confused, disappointed, concerned, perplexed, frustrated, hurt, and even sad. But you know what's waiting for us when we dig beneath all that stuff?
Anger. Even rage.
"'In hard times, filled with hate, look to your highest self instead of getting angry,' they say. As if my highest self isn't angry as fuck." – Andréa Ranae
And here's the part where anger intersects and clashes wildly with our white women culture. Anger is seen as unattractive, distasteful, threatening and destructive. We are taught from a young age to get rid of it quickly and discreetly, passing it on like a hot potato to someone else if need be. We don't have a lot of practice being with it, let alone giving voice to it. The result? We kind of suck at expressing our anger at a time when many of us are full to the brim of it, and we could be using that energy to create and lead change.
The bottom line: We white women have some work to do owning and expressing our anger. 
Now let me just pause here and clarify that this is not to suggest that white women are the only angry women. Nor do I mean to suggest that women of color have all that anger shit figured out either. There are plenty of angry women in our world these days, and legions of us are getting loads of opportunity to experience it. What I'm seeking to do—for myself and other white women— is to shine a very particular light in the corner of our white women culture that we don't often discuss: all that anger we feel and what we do with it.
Because that stuff in our corner? It's still there, and getting bigger. And if we don't allow it to exist because we're uncomfortable (or out of practice, or afraid of not being liked…), we run the risk of it coming out sideways, having it be misdirected, and ultimately rendering it (and us) ineffective.
Ever been dismissed as a bitch, hysterical or an angry feminist? Then you know what happens next. Most of us shut up or get shut down.
But keep all that anger inside, and it rots and festers within us.  I can't help but make the connection between this unexpressed (in many cases, unvalidated) anger and the state of women's health. Heart disease. Breast cancer. Depression. What's that phrase Carolyn Myss, Christiane Northrup and so many others talk about? Our biography is our biology. And when you lay over the history of women and the impact of years of patriarchy? Well now, that's a pretty rich history that we carry in our collective cellular memories as women.
You know what helps? Practice. 
You know what doesn't? Shame. 
Why is this important? Because in the absence of doing our own work with anger as white women, we will shop around for others to express that anger for us—like men and women of color or white men. We'll ask other people to hold the hard stuff we don't want to be with at a time when many people of color have their arms full of stuff already. There is much to be angry about these days—the injustices, the oppression, the corruption, the violence — and we need all hands on deck if we are to right this ship. Waiting to get comfortable with our anger, be good at voicing it publicly, or having it feel safe is an exercise in white privilege; just as getting self righteous about it is —both actions serve to disconnect and divide us further from ourselves and each other.
You know what helps? Curiosity.
You know what doesn't? Judgement.
Like many of you reading this, I have been struggling mightily with the anger that has kicked up for me in the wake of our last presidential election. I find I have been working overtime to face and feel the intensity of my anger and use the power of my voice with intention. And yet, many days I am overwhelmed with what I see…how the opportunities…they seem to be…everywhere.
I was sitting with my therapist recently recounting one of them, qualifying it as "not a big deal", but more of an example of how microaggressions can pile up pretty quickly. I was telling her the story of talking with a man when another man came over and started talking over me, not even acknowledging that A) I was there, or B) I was talking. Without skipping a beat, the man I was talking to stopped listening to me and diverted his attention to the other man. And off they went. I stopped talking and and no one noticed. Or cared. I was fuming but bit my tongue.
"Why didn't you say anything?" my therapist asked.
"I didn't want to be, you know… THAT angry feminist," I responded.
"Why not? "she countered.
Good point. Why not, indeed.
"The patriarchy is so scared of women's anger that eventually we learn to fear it, too. We walk around as if we were bombs about to go off, worried about admitting how livid we really are, even to ourselves." – Laurie Penny
Writer Laurie Penny talks about this very thing in her book Bitch Doctrine, exploring why women hide anger, why we fear it and how we can use it to create change. She is clear about the need to distinguish anger from hatred ("anger is an emotion, hatred is an action…") Gloria Steinem has been talking about anger for most of her life. Danielle LaPorte's latest book explores the notion of "spiritual bypassing" and how "all the woo [can] keep us from dealing with our poo." Most recently, Tina Fey—in only the way Tina Fey can do—shined a humorous and extremely well-pointed barb on the rage living inside women these days, stirring up a mixed-bag of responses with her "sheet caking" alternative to protest, that would have women yelling at their cakes.
You know what helps? Acknowledging the suckage and trying anyway.
You know what doesn't? Pretending it doesn't matter and expecting things to change.
So I, for one, will continue to pull up my plate of anger and sit it squarely in front of me—my version of a sheet cake, I guess. Which means I will get messy with it, make mistakes, make an ass of myself, maybe even offend someone. But you know what? I'll learn something in the process.  I will have practiced something hard and will suck less at it each time as a result of that effort. I have no intention of stuffing my words down with cake or misdirecting my anger at some shapeless mass of empty carbs, though. And I will try my best to remember this:
It's not about being nice; it's about feeling angry.
It's not about being unproductive; it's about being honest and showing up.
It's not about being ready, it's about being present.
It's not about feeling safe or comfortable, it's about being accountable.
And if that doesn't work, I will hold the image of Tina yelling at the camera with frosting all over her face and her fork flailing around. And if I am so moved, I will lift up my fists full of frosting and make some noise for change — ready or not.
Want to hear more stories like this? Check out my Unscripted Evening coming up this September 28th in Yarmouth, Maine. Tickets are now on sale.
And if women's storytelling is your thing, save the date for this year's SheSpeaks being held at One Longfellow Square on December 7th. The theme is "Life In The Arena" and tickets are on sale now if you're a planner!