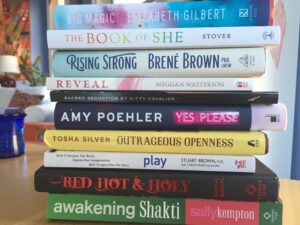 I am a huge fan of words. I have often said that my idea of heaven is being alone in a bookstore with no sense of time, just being able to roam endlessly among all those words.
Books are my happy worm holes.
I have been known to spend days – weeks, sometimes months – with my face winced in something akin to physical pain as I search for just the right word to describe an experience I'm having, an event I'm creating, or, most recently, a book I'm writing.
But it's always so worth it, because when I finally find it – or more aptly feel it land in my bones – it's such a delicious treat, like warm, dark chocolate mixed with a dollop of honey and a dash of cayenne melting on my tongue.
Words are my ultimate accessory.
I wear them like earrings, stack them like bangles and wrap them around me like the most luxurious pashmina. I've never been a fan of gems or jewels – much to my mom's chagrin who insists to this day that I will eventually love them. Words are my jewels, and I wear them like a priestess.
Upon my death, I would love nothing more than if those whose lives I have touched gift me with their favorite word, writing it in red and kissing it before offering it to the ground with my ashes. Morbid, I guess, but I think about these things.
Words like "fecund", "luminous" and "effervescent" send electric currents of pleasure through my body. Indeed, I do believe words have the potential to be the ultimate sex toy. And don't just take my "word" for it…read some poetry or pick up some erotica and try it for yourself.
For many women, the right word has the ability to transport us to the feminine energy in ourselves like a high-speed lane – traffic jams, red lights or construction zones be damned. It's right up there with nature and movement when it comes portals that help us to plug into our bodies and our truth.
I love fiction, but what really nourishes my soul are the stories women tell about their own lives. The ones that make me weep and laugh and moan. The ones that make me not feel so alone. Or crazy. Those books.
In fact, it was that very gratitude I have felt many times from reading another woman's story was the inspiration for my own book's dedication:
For the woman who feels alone. Or crazy. Or both.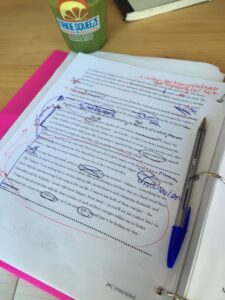 Those are the women for whom I wrote Unscripted – the ones who lay awake at night thinking, "Am I nuts…does everyone else have this figured out but me?"
[And for those of you who have asked about the latest ETA on my book's release…an update: I'm doing a "clean read" of the final manuscript this weekend, and am on track to upload it to CreateSpace on Oct 19…which would hopefully put me on track to release it by Halloween (how perfectly auspicious, right?) So almost there!]
One of the hardest things I've had to do over the past year in writing this book out of me, is to intentionally cut myself off from those books that nourish me the most – the stories written for and told by women. Why? Because I had to go down into my own worm hole (so to speak…). I had to tune out all the other voices of women so I could hear just my voice in this noisy world…to create a void for the quiet whisperings of my soul to talk to me.
That was really, really hard. And I can't tell you how many times over the past year, I've picked up and put down books stacked beside my bed written by Amy Poeler, Meggan Watterson, Kitty Cavalier, Amanda Palmer, Sera Beak, Christiane Northrup and Brene Brown with a reverent nod, promising, "someday soon, my tasty morsel…I'll be back for you."
And I'm happy to report: That day has come. There are days I never thought it would, but sweet mercy, it's here! And just in time, too. Right on track – even despite my impatience and fit-throwing foot-stomping.
Having read my own manuscript no less than eight times cover to cover – after having been brought to my knees writing it – and with my last "clean read" in sight, I cannot tell you how excited I am to tuck into someone else's words and stories other than my own. Honestly. The prospect literally makes me drool and, no, I'm not being overly-dramatic.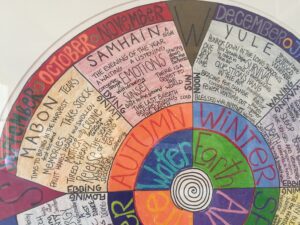 Yesterday, while I was waiting for one of my clients to arrive, I literally turned the wheel of my year. I have this framed wheel in my office that represents all the seasons, the elements, months and, of course, words I associate with each season.
Turning that wheel a quarter turn four times a year, helps me to orient myself with the seasons of me, turning my attention and intentions toward the invitations embedded in each season. People have called this framed thing,  "art", but I've always resisted that notion, seeing it as entirely functional. Let's just say it's functional art I made.
So yesterday I turned the wheel a quarter so that the fall – September, October, and November – was on the top left, and the winter – December, January, and February – came onto the scene, stage right. I had a moment of grief – for the summer that had passed (it was an insanely good one), and for the year I had spent writing this book (now it would live in print instead of my body).  Turning that wheel yesterday gave myself permission to grieve what has passed and to move into what is becoming.
I went home that night and finally – blessedly! – felt ready to read another woman's story. Sure, I still did that thing I do – reading the acknowledgments first, checking the front matter for the publisher, reading her bio, making note of how she chose to format her book – but mostly, I allowed myself to be fed by another woman's story.
And it was so damn nourishing, slaking my parched soul instantly.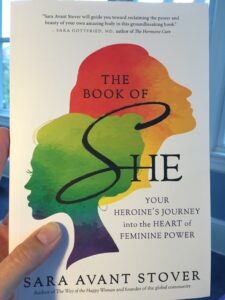 The book was literally called
The Book of She
, and it arrived on my doorstep this past weekend after having pre-ordered it six months ago. I have long since been a fan of
Sara Avant Stover's
, so I was delighted to lay my hands on this book that I knew came from the depths of her soul.
A soul sister's soul.
My eyes landed on a particular phrase as she set the context for what she calls the Heroine's Journey: "…the feminine teaches most potently through storytelling…"
I put the book down and wept. 
The full magnitude of my book – and what I had put in it – started to flow into my heart. I had just spent over a year of my life gathering, writing and weaving together pieces of my story. Many, many pieces. Which means that I had been generating nourishment for the feminine of any woman – or man – who chooses to feast on it.
This was me feeding the collective feminine in us. 
I felt so honored, and bowed my head in gratitude at the gift I had been given to write this book. I bowed to myself (such a new behavior for me) with gratitude for saying yes to that ask. I bowed to the feminine, for patiently waiting for us to get ripe and ready. And finally, I bowed to all those people out there who are courageously giving the feminine a voice and an honored seat at our table so it starts to flow over us in wave after wave, nourishing our tired bodies and worn out spirits.
I felt pride – as if I had brought a really good dish to a pot luck dinner. It turns out my words are food. And my book – the one I hope to put in your hands very soon – was me replenishing some word food from others that had nourished me over the years.
And with that happy and full heart, I tucked into a good book and ate.