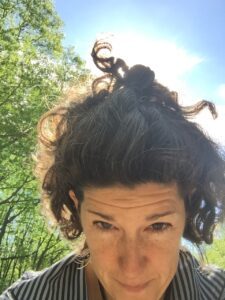 I'm going to tell you a story I could easily not tell. It's a rather ugly story that reveals an unsavory part of my character. But I've decided to share it with you because here's one thing I've learned over the last year:
Shame can't live outside me. 
Holding onto it by keeping it inside me not only sours my joy, limits my expansiveness, and dampens my radiance, it also puts a wedge between me and others. I've found this is especially true for women, and have marveled at the degree to which my feelings of judgement are rooted in my feelings of shame. Simply put: if I can catch my own shame about something, I often am able to release my judgement about others that might be triggering it. It just breaks the cycle.
Catching and releasing my shame has become my new thing. 
I talk to enough of you out there that I know I'm not alone. I hear my experience of judgment echoed back to me every day with my clients. So perhaps you know something about the wedge we can conveniently put between ourselves and other women, having us judge each other instead of giving voice to the source of it – a hidden shame, an unrequited longing, a silenced desire.
Most recently I was inspired by Brene Brown when I heard her being interviewed by Elizabeth Gilbert on her podcast, Magic Lessons. In talking about whether or not she believed herself to be creative, she admits that if she had been asked that question even as recently as a year ago, she would have responded, "Oh, isn't that cute. No, I don't have time for A.R.T. because I have a J.O.B."
How refreshing to hear such an accomplished and celebrated woman be so fucking honest about the shameful thoughts that had her secretly judging others – the "creative" people. Hearing her story inspired me to share my own with you. So thank you, Brene.
So here's my tale of catching my shame in action – lest you think you're the only one out there that has this experience – and the 10 clues I use to track it down and then release it.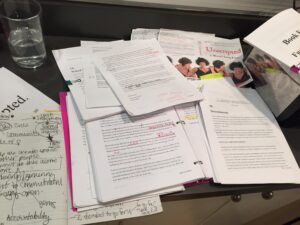 I must start by telling you that this story unfolded for me when I was not in a very good way (this is probably true for most stories of shame – they tend to take root when we're depleted and down). I was exhausted after a year-long sprint-and-then-wait experience of
writing my first book
that – for the life of me – didn't seem to ever end. With every well intentioned query, "
is your book out yet?
", I turned a fiery and fierce glare on my weary editor – an unbelievably gracious and talented soul who has been working feverishly day and night in service of me. I felt like a bully, allowing my impatience (
will this EVER be done?
), insecurity (
will people like it?
), and fear (
what if they don't…?
) turn into toxic vitriol spew.
Even as I'm writing this, I'm finding more shame there. Shame I have since given voice to with her as I've dropped the reins and told her to take her time – that I trusted her (and her process) and was just full of my own sour energy that was coming out sideways. [which brings me to a side note: the book will be out when it's out; I'm thinking it's soon, but who knows…]
But this isn't a story about my editor or my impatience in waiting for my book to be released. Nor is it the story of being busy, feeling spread too thin with obligation, activities, events and the general noise of life. It's also not the story of transition and acclimating to the shorter and colder days of the winter, while grieving the summer. No, all that would be an excuse.
This is the story about shame – plain and simple. And how damn easy and seductive it is to sidle by it, laugh it off, pass it off or onto another unsuspecting person in the form of judgement.
Here's what happened:
My son was invited to a halloween party at a classmates house. The handwritten invitation came weeks beforehand on an orange square of paper. You could tell it was heartfelt and therefore going to be eagerly anticipated by both the host and her daughter. There were references to coming in costumes and bringing a healthy halloween-themed snack.
I clipped it to our calendar knowing full well my son intended to go and didn't RSVP until the night before the party. That should have been my first clue (#1. passive aggressive behavior). I could make a million excuses here (and maybe you're reading this doing it for me?), but I'm not. This is me being honest: Something in me knew what I was doing.
Fast forward three weeks, and I find myself frantically emailing the mom (whom I have never met), falling all over myself with apologies for RSVPing the day of the party, and asking what I could bring. That should have been my second clue (#2 giving my power away to a complete stranger – especially when she wasn't asking for it).
I drop my son off at the party later that evening, and that's where the story really gets rich. This lovely woman opens the door and welcomes me into her beautiful home. My jaw literally falls open as I take in the festive and completely immaculate scene before me. It's like a photo shoot had been set up for Martha Stewart Home or Real Simple: Halloween Edition. The woman that greets me seems calm – serene even – and I begin to be aware of how frenzied and frantic I feel, thinking of my own messy home that was void of anything festive.
As I fully absorb the showcase beauty of her home – the dozen white candles in clear glass pillars on the mantle, the red couch that is both pristine and lusciously inviting (how is that even possible, I wondered), the warm butter yellow walls that were flickering with candlelight – I start telling myself the story that this woman's home always looks like this.
I start to prattle out loud about the room having "good feng shui", even though I have absolutely no idea what I'm talking about other than some vague recollection that yellow and red are "good" for prosperity. That should have been my third and fourth clues (#3 nervous prattle and #4 me handing over what's left of my power).
She invites me into the dining room, which I realize is filled with other moms, some of whom I know. I am standing there, empty-handed (I had done as the host suggested and "not worry" about bringing something), and was suddenly aware that I most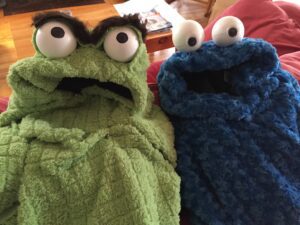 likely had bits of green fleecy fuzz stuck in my hair from the Oscar the Grouch costume I had been frantically making earlier that afternoon. I felt like Kramer from Seinfeld – zany, unkempt, marginally tolerated, and just a hair away from losing it. The other moms, as my frantic eyes scanned the room, all seemed to be relaxed, composed and completely at ease, standing around drinking white wine. I silently cursed the fact that I was born a woman yet I detested white wine (why can't I just be normal like other women?).
As I took all this in, I started to make up other stories about these women  – how they only have ONE child, no large hairy dog that was constantly shedding or drooling, and probably enjoyed spending time on Pinterest thinking of something "halloween-themed" to make. My mind was in over-drive now making up loads of shit in an attempt to make myself feel better: They probably have clean houses and crisp linens, a house cleaner, a trust fund, they don't work, they don't feel like they're hanging on by a thread most days…
That should have been my fifth clue (#5 widespread panic inside me).
I have never seen such elaborate and wildly creative and scary snacks as the spread set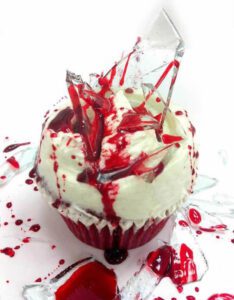 before us in this butter yellow candlelight-flickering room. They were everywhere. In one corner I saw an artfully displayed platter of cupcakes that had "blood shattered glass" sticking up from the white frosting. I asked the mom who made them how she did it. While she told me about the idea she found on Pinterest (I knew it! Fucking Pinterest!), and how tricky it had been to get the temperature just right on the candy thermometer, I made a self righteous note that she only has one child and no dog (while conveniently ignoring what else I knew: she was a single mom that worked full-time).
That was clue number six arriving in my feeding frenzy of judgement (#6. self righteousness)
I could feel the sweat on my upper lip forming, and how the humidity on that unseasonably warm day was turning my chunky curls into a helmet of frizz.
"I really should go", I said. What I really wanted to say was "GET ME THE FUCK OUT OF HERE!"). And there it was: the seventh clue (#7. running away from something I didn't want to feel) 
And I did. Leave. Quickly.
I went home and walked in our messy home, entering it like I had just narrowly escaped a brush with death. My husband took one look at me and said, "What just happened?" And so I told him, embellishing as I went and peppering it with plenty of "can you believe that shit!?" and "what the fuck, right!?" Finishing my story, I seemingly dismissed the whole experience by shrugging and saying, "who has time for that shit?"
A little bit later I texted my sister and told her the story, this time zooming in on the use of the candy thermometer, knowing full well this would set her off because she owned exactly five mismatched pieces of old cutlery – just out of spite. Like the good sister she is, she went off on a tirade, guffawing at the absurdity and laughing in agreement with me. And there was my eighth clue (#8. shopping for validation, aka "leading the witness")
A couple days later I had an informal gathering for my birthday that began with a brunch in my messy home. The plan was to catch up and reconnect with my friends before heading out to a dance class that was being led by a friend in my honor. As we sat around the living room by the fire catching up, I (once again…) started telling my story – embellishing it even further this time and zooming in on the blood shattered glass in the cupcakes.
I got what I was looking for from my crowd – a bunch of "are you kidding me!?", lots of shaking heads and rolling eyes, and even a handful of comments intended to demonstrate their loyalty to me by saying, "that stuff makes me crazy, too…" That should have been clue number nine (#9. permission to completely disassociate).
Feeling relieved and lighter by all of our raucous laughter, we started to swap stories about the latest news of our lives. A few of my friends knew I had gone away for my annual birthday retreat and asked me about it. I shared that I had found my "word" (swoon) for the year, and recounted how the practice of finding a word really grounds and guides all of my intentions – personally and professionally- for the coming year. I happened to mention the ritual I do at this retreat of closing out my year by capturing the highlights, memorable experiences, key learnings and accomplishments from the year before turning the page and considering what I want to create for myself next year.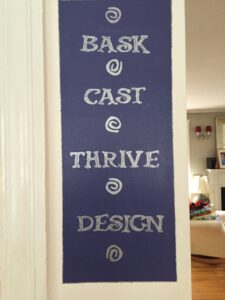 I noticed they had stopped smiling and nodding, and were now looking a bit stunned by me, but I continued on telling them that our entire family chooses a word for the year that we paint on our kitchen wall over the holidays as kind of a New Year's ritual. Inspired to give them more context, I pulled out our big orange family goal book and explained how we each take time over the holiday to capture our favorite family highlights from the year and also reflect on what we want to create for ourselves for the coming year. I showed them how we each have our own page to play with every year, and how Todd and I also have pages for just us as a couple.
At this point I realized there was complete silence. I looked at my slack-jawed stunned friends and it hit me like a ton of bricks. I admitted aloud to them:
"Holy shit, THIS is my version of blood shattered cupcakes, isn't it!?" 
They nodded at me and their laughter and suddenly smiling faces revealed to me the shame/judgement game I had been playing with myself. What I had been doing to that woman (I believe it's called judging…) and her perfectly cleaned and decorated house and festive cupcakes, my friends had been doing to me in that moment – taking in my word wall, goal book, countless intention practices and family rituals.
That was when I got smacked in the side of the head by my tenth clue (#10 seeing the hidden shit underneath the judgement: jealousy, desire, insecurity, fear, vulnerability).
Here's what I was beginning to see as a result of that experience:
I was feeling overwhelmed and embarrassed by all the clutter in my life – my house, my book, my schedule, our garage, our basement, piles of stuff seemingly everywhere – and was desperate for some order in the chaos.
I was feeling vulnerable about releasing my book in the world and as a result was anticipating feeling judged. There is so much of me and my story in my book, somewhere inside me, I was questioning whether I would still be loved by my friends and family after they read it and "found me out" 
I was jealous of women who seem to "have it together" because I felt like I was literally coming apart at the seams. 
I had been feeling like I was coming up short and lacking everywhere – especially as a mom – and was feeling guilty and selfish for having been so distracted over the past year of my boys' lives. 
I was feeling insecure because I never quite feel like I fit in with other moms. 
I was ashamed for having trash talked a perfectly lovely woman – and her home, and her party – behind her back. 
That was a tender moment I had in front of my friends – one that nearly brought me to tears when the curtain was pulled back and it finally hit me. One of them, in seeing the bright white lightbulb of awareness glow over my head, said very lovingly, "I'm glad you see that now, Lael."
But that public reckoning I did with my shame was so damn powerful that I won't ever forget it. So powerful, in fact, I'm sharing it with you.
Because we all have our own version of blood shattered cupcakes – those things we do in the world that just come naturally to us. Those things we say or create or provide that we take for granted – because they don't feel like hard work, they just flow from us with ease. They are our gifts. Those things we do that, ultimately, we are admired for being able to do so well.
We ALL have and do things that make other women jealous or insecure. But we probably can't see them. 
Which really shines a light on the fact that jealously, at its core, is really just a curdled version of longing. When we are jealous, we are actually being inspired.
But don't take my word for it. I could just be a self-congratulatory bitch. Have a go at it and see for yourself. Notice where you are judging or jealous. Make note of who has you feeling insecure. Pay attention to what makes you want to run for the hills. And then get curious. Dig underneath your initial story a couple – or 10 – layers to get to the good stuff.
I bet you hit pay dirt like I did.
Notes in the wake: After posting this, I forwarded a link to the woman mentioned above – the host of the party I barely knew. I was scared shitless, but knew it was important. It was about integrity for me – like the last vestige of shame was still hanging on because I hadn't fully owned it with the one person who mattered. The person I had judged. So I wanted to "come out" clean with her – even though I knew she would probably be oblivious to all this going on for me – and apologize. But more importantly, I wanted to thank her. So I did. This morning. 
Within ten minutes of sending her the link, I got the most lovely phone call from her. She thanked me and said how much she admired my courage for sharing it with her. She was gracious and grateful to ME, and with that my heart cracked wide open. She ended her message saying she wants to be my friend and we've set a date to go out together. Wow.
More evidence of what can be born from catching and releasing our shame – admiration, gratitude, and an unexpected friendship.