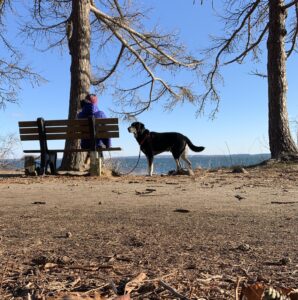 The morning wakes me before the alarm.
Eyes open, the bluebird sky fills the windows.
My body exhales and a smile forms under my ribcage.
Winter sun.
A welcome sight after the cold gray steel of yesterday.
Warm socks. Hot coffee. My favorite chair in a patch of sun.
Silence as the house still sleeps. The dog curled up on the carpet next to me.
Awareness of an organic ritual finding me, this time I take each morning.
Intending to read, the book stays unopened on my lap.
I watch as the morning sun makes its way into our neighborhood.
Idly moving across the street, it takes up residence on front porches.
It feels intimate—almost voyeuristic—watching the sun and its travels.
Does it know I'm watching?
Take me to church says a voice from deep inside me, clear as the sky on this December morning.
Something in my body shifts, wondering if I will respond.
But I brush it like an errant crumb, dismissing it as a lovely thought that fell out of my head.
Take me to church I hear again, this time slower.
Again, my body shifts, willing myself to take notice.
There is still coffee in my mug.
The dog has already been for his walk.
Besides, I reason, it's Tuesday.
As if church could be contained by a one day.
As if I were literal in my interpretation.
As if I didn't know we were talking about nature's church.
Take. Me. To. Church.
I sighed at the inconvenience of it all.
I was still in my pajamas.
I had work to do.
It looked cold outside.
And it's Tuesday, after all.
And yet.
Something in me was moved beyond stirring.
Something in me was already responding.
Something in me had said yes to these instructions.
In my mind, I had made a concession.
A walk with the dog, right now, not later.
No noise in my ears to distract me, just the crisp morning air and sunlight.
That would be church, right?
But as I pulled off my pajamas and pulled on my clothes, I found a different deal had been made.
I reached for the warm layers and thick socks.
I braided my hair, readying it for a hat and the sort of wind that comes off the water.
This would not be a neighborhood walk.
Not today.
Today I would be taking myself to church, it seems.
A church surrounded by water.
Warm boots. Car keys. Dog leash.
A short drive and a long cosway.
Water on both sides of me like guardrails, guiding me.
High tide. No people. Blue sky and water.
Message received. Permission granted. Opportunity taken.
Tuesday's instructions.
Something in me exhales deeply as my car door opens on the island.
Welcome to church the voice deep inside me said.
The water envelopes me like an old friend who has been summoned.
The morning light makes its way through the tall trees like sentries along my path.
Empty benches are strewn about like gentle invitations.
My pace slows.
Silence grows.
And I am filled up with church.
Grateful for following the instructions I had been given.
Even on Tuesday.
Especially on a Tuesday.