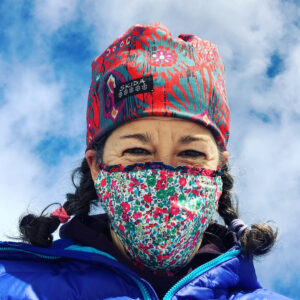 Hey there. It's me, Lael.
I'm writing to you from December 2020 to prime the pump for where you'll be headed in the next year. This is the letter I wish someone had given me a year ago. I think it might have helped on all those dark nights of my white soul.
So….2020. Here's the deal: a raging pandemic will sweep across the globe (so get some masks), but believe it or not, that's not going to be where you put your energy over the next year. I know, I know, sounds crazy, but stay with me here. .
In 2020 you're actually going to be reckoning with something bigger and something deeper—something you might even think you've moved beyond because you're a "good white person" (spoiler alert: there is no such thing.)
You, my friend, are a racist. Of course you are.
Did you flinch a little bit when I said that? Did you pull back—ready to refute, show me all the evidence as to why that's not the case, or point to others instead? Of course you did. That's what we do as white people. We spend countless hours—sometimes even lifetimes—tussling about with the "I'M NOT A RACIST!!!" debate before actually getting to the work of dismantling systemic racism in ourselves our world.
And in the process, we just keep repeating the same predictable cycle as good little soldiers of white supremacy—denying, dismissing, disassociating, discounting—kicking the can further up our road and repeating history (with more of the same) as opposed to making history (by choosing something different).
That is our white privilege at work.
That is what white supremacy is counting on.
That is exactly what we've been trained to do.
That is systemic racism working exactly as it was designed.
That is what will keep racism alive and well.
And that, my friend, is where we are complicit.
Whether we realize it or not, you and I are a foot soldiers doing the work of system of oppression.
So of course you're a racist. So am I.
That's the bad news.
The good news is that in 2020 you decide to do something about it.
Having lived a little and learned a LOT in 2020, I thought I'd write this letter to you with some operating instructions that might help navigate all that. Consider what follows to be some field notes, if you will, to reference as you dig in in 2019 and take a hard look at your own behaviors and beliefs as they intersect with white culture and systemic racism.
It's going to be a stormy year—some will call it a shit show. But perhaps these 11 things listed below can be channel markers to offer you a bearing in rough seas and help to guide you forward on your journey.
1. Nothing changes without first acknowledging this (say it with me): "Of course I'm racist."
Start there. Keep saying it out loud. It will be hard at first and loads of people will run to your defense and tell you all the ways you're not. Don't believe them. I promise you the more you say this out loud and publicly, the easier it will get and the more it will pave the way for other white people to do the same. This one sentence is the most powerful tool you have. Use it. And when you look around, feeling self-conscious and vulnerable, and see all those other white people who are content to remain oblivious to their privilege and not engage in the work of anti-racism (I wish I could, but I don't have time…I don't have the emotional bandwidth…It makes me uncomfortable…It's not my fault…I'm so overwhelmed…I don't know how…) brace yourself, because you're going to want to get up in their grille fast. And that? That will be a distraction from you doing your own work. Focusing on them instead of working on you is going to be really tempting, because getting judgmental and self-righteous is going to feel a helluva lot easier than getting honest and reckoning with your truth. But start with you. Stick with you. Choose to embody instead of interrogate, radiate instead of confront, and inspire instead of convert.
2. Change begins with either getting uncomfortable or getting vulnerable.
Pick one and come back for more. 2020 is going to give you a run for your money—fear will be rampant, unemployment will be high, morale will be low, and there will be a really loud and scary election in the midst of a pandemic. Distractions, excuses, and justifications will all be readily available and competing for your attention. At times it will feel like the whole country is on fire…and sad to say, this will literally be the case out west. But keep choosing to get uncomfortable, and vulnerability will follow as you move closer to your truth. Hear me when I say this: this is a good and healthy thing. Contrary to popular belief, these things will not kill you, they will make you—and us—stronger as a result. If you're not feeling one of these two things on a regular basis you're not doing the work of anti-racism. It will be hard and awkward, and I promise you, you'll feel self-conscious and wonder if you're doing it "wrong". These are good signs of learning and being on the move—away from the status quo and toward a better future for us all. Be like Dory, and just keep swimming.
3. Racial literacy—it's a thing.
Your mind will be blown away by all that you don't know or weren't taught. You'll uncover major shit that was left out of "history"—like discovering the existence of a parallel universe. Let yourself be surprised and horrified—because you will be, plenty. You'll feel like Harry Potter going through that brick wall on platform 9 ¾ for the first time, leaving the land of the Muggles and realizing there is a whole other land you never even knew existed that had been right there all along. Except it won't feel magical. It will feel embarrassing, shameful and disgusting. And then you'll get mad—full of rage that it took you until the age of 51 to even hear about it. You'll look for someone to blame—a teacher, your parents, our founding fathers. This is all part of it. By never questioning or looking beneath the surface of what you were taught, you were complicit in this false narrative. It will be up to you to get fluent in racial literacy because our white supremacy as we've designed it relies on you NOT being fluent. The good news is, once you realize this you'll be like a dog on a bone about it, pulling back the curtain right and left.
4. Racism isn't about Black people. It's about WHITE people (that's you.)
It might feel like it's an "issue" that doesn't concern you, but you are at the root of it. Your ancestors designed this system—the one our country has baked into it—with you in mind. It benefits you even if you don't realize it. The only reason it feels like it's not yours is because white people don't want to talk about, so it falls on the very people who are oppressed by systemic racism to address it—again and again. You're a feminist, so think of it like this: violence against women isn't really a women's issue, right? It just feels like it because we women have a vested interest in it stopping. It's really about men's violence against women, but women are the often the only ones making sure we keep talking about it—because if we don't, who will? It's like that. So be the white person who talks about white people's shit—because it's our shit that stinks.
5. Shut up, listen, and reflect.
Seriously. Put your words away for a while. This will be hard because you're trained to spout your opinion at every turn in the road. But once you do this, you will be able to hear and see that perspectives and stories (words written or told) in Black voices are everywhere around you. Just take them in like a sponge. And then go back for more. And Lael? They're right. You don't get a vote about other people's experiences and whether or not they are true or valid. They are. They might be different, they might be uncomfortable or hard to hear, they might test everything you believe about yourself or this country, but believe them. Notice and resist the urge to "yeah, but…." them away. Let it be hard. You won't die of embarrassment or shame. But if it feels like you will, try getting curious about yourself. Curiosity will be your super power here, and will help you move out of shame more quickly and show you how you've been trained. Understand how you were baked with the beliefs and behaviors of white supremacy inside you. Mine for the ingredients. Learn your wiring. Familiarize yourself with the foundation on which you were built as well as the roots of the ground underneath it.
6. Unmute yourself.
You'll feel the urge to keep quiet about what you're learning because you won't feel ready, good at it, or know enough. You'll talk about it being a private conversation, and that will be code for feeling shame. You'll be afraid of getting "caught" not doing or saying something right, and at some point you'll decide not to saying anything at all. But do it anyway, because to stay silent is to stay here—and complicit. Talk with white people about what you're learning—share the mind-blowing insights, demystify the "work" of anti-racism by opening the door to another white person. Let yourself inspire others. You're going to be experiencing a lot of pandemic humor in the next year to get through it, so I'll put it this way: be a positive contagion. Infect others with a good virus. And? Stay in your lane. You're going to hear this phrase a lot, and at first you won't understand it. Then you'll resent it. This will be your whiteness showing, as you're taught that you're an exception and a free agent who controls her own destiny. You're taught that the whole world is your oyster and yours for the taking. In 2020, you'll learn just how wrong that is, and worse—the impact it's had on others. In the coming year, Black Lives Matter will take center stage more than ever before and grab the mic in this moment—as leaders, agenda-setters, and influencers. White people won't like this, and you will be one of them. But you'll soon learn that white people have historically just taken things without asking—and you'll learn how to show up in service without stealing the stage or redirecting attention back to you. This will be a game-changer.
7. Practice, practice, practice.
Do you remember when you first started using clip-less bike pedals and you kept falling over because you couldn't put your foot down to stop the fall? Do you remember when you fell down skiing and people in the lift lines thought you were having a seizure because you didn't know how to get back up? That. You're going to feel a LOT of that in 2020 and this means you're actively learning. Also, you're going to be noticed falling down and making mistakes, and this, too, will have a purpose. By you doing this work publicly, you will be making it safe for others to try and fall down as well. Resistance, denial and defensiveness are going to try to get you at every turn in the road. Expect it, and do not take the bait. It's hard at first, but like with anything, with practice it gets easier. And here's something helpful to remember when the going gets tough: this is a marathon, not a sprint. This is not a one and done sort of fix. Keep your foot on the gas. This will keep you inspired and moving forward even when it's hard. It will also remind you that any other choice (stopping, coasting, taking your foot off the gas) will support racism (you'll get a major insight early on that there is no such thing as "not a racist", only "racist" or "anti-racist"). In 2020, you'll choose being an anti-racist. Keep choosing it daily. And know that this choice will be the rest of your life, not just a moment in time. That might sound daunting to consider now, but I promise you, it will start to become second nature. Remember when banking became remote with ATMs and then we moved to online? It's like that—a big deal at first, then the best thing that ever happened to banking, right? Which brings me to…
8. Resist the urge to do it alone or privately.
The desire to crawl under a rock will be powerful. Resist it. 2020 will show the degree to which this country is divided (spoiler: KAMALA WINS!), but this will be the year many of us white folks learn the power of pooling together our resources—be it financial power as consumers, learning power as anti-racists, or influencing power by sharing our platforms. We'll start to share our mistakes and be inspired by our fall downs and get ups. We'll learn from our fuck ups, failures and mis-steps, rather than burying them. The bottom line is no one will know if you're not doing this work, but if you do it as a family or with a peer group you will be building in accountability and can process what you're learning with them. Solve for that. Pull up a chair and have a slice of humble pie. You are not the only white person who didn't know what you didn't know. It's not that you're stupid, it's that you didn't see the water you were swimming in. This, by the way, will be the inspiration for you to create The Beach for white women in your community to gather and do anti-racism work together—and bonus!—as a result, you'll donate $2,400 to the Loveland Foundation's Therapy Fund because of all the registrations!
9. Holds multiple truths.
Yes, it is absolutely about you and it's also about the system in which we are all operating. Yes, you are kind and you do harm. Sure, you didn't mean it and you still had impact. Yes, you didn't ask for your privilege and you still have it. Maybe you're not directly responsible for our history of white supremacy and you are contributing to it daily just by existing. Yes, you might be self-aware and you also are blind. Yes, you are smart and you are ignorant. It's simple and it's complex. It's multifaceted and it's straightforward. It's right and it's wrong. See what I'm getting at? Your brain is going to rebel in 2020 with all of this because it won't be able to reconcile all that you're asking it to hold. Seek expansion instead of reconciliation. Look for the contradictions, see the paradoxes and feel the tension points. Seek the scary edges instead of the comfortable middle. Seek the yes/and. Drop the habit of either/or. This will serve you well and increase the capacity of your brain and heart.
10. Reframe your mindset from despair and overwhelm to hope.
The fact that you'll be navigating a pandemic in 2020 will make everything seem dire. There will be much fear, lack and hardship. Everything will seem chaotic and you'll be reminded of how little we humans actually control. You won't know how to do this at first, and that will be hard because you'll feel like you're drowning with no land in sight. But keep looking for ways to switch your mindset from bad to good. Get creative about keeping your eyes on the prize. And remember that you are swimming against a powerful tide of training that has a vested interest in you NOT leaving this comfortable shore of whiteness on which you were born. Many will tell you this is who we are and there's nothing that can be done. Don't believe them. Imagine something different is possible for us. Live—and fight— daily for the future of a country in which you could be proud to live. Reach for this lifeline from Valarie Kaur (you'll come to love this woman and everything she writes…) when you need it most: "What if this darkness we are feeling isn't the darkness of the tomb but the darkness of the womb? What if our America is not dead but a country that is waiting to be born? What if the story of America is one long labor?…What if this is our nation's greatest transition?" Imagine something greater than your worst fears—if not for yourself, then for those who will come into the world behind you like your grandchildren. Be an ancestor that leaves the world better than you found it and doesn't just repeat history.
11. Begin anywhere. Just choose something. Anything.
This might seem obvious to say, but I offer it because this will be the #1 excuse you'll reach for to avoid engaging with this work and feeling what you're feeling. In 2020, you'll hear a chorus of (formerly known as) "good white people" start to wail: I don't know what to do…" and it will conjure images of Gary Larson's boneless chicken ranch from The Far Side cartoon—only instead of chickens, it will be white people draped limply over corral posts and in pools on the barnyard floor. You will relate, and it will be seductive. In those moments, choose action. Open a book to the middle. Start listening to a podcast in the second season. Insert yourself in a conversation without understanding the context. Support BIPOC owned businesses. Make a donation to an organization that supports the safety, financial security, and freedom for BIPOC. Learn about Black Lives Matter, ACLU legal defense fund, the Loveland foundation, or just Google Anti-Racist. Play with numbers and start counting how many books, movies, Netflix series that come into your home or workplace center black lives? Learn the names of all the innocent Black and Brown bodies have died at the hands of police brutality? How many BIPOC are in your inner circle? Count them, Lael. It's hard data and will be very revealing. You know how to do this. Don't wait for an invitation. Don't wait for the perfect thing to find you. There is no perfect thing. Pick anything. It doesn't matter what, but don't be a boneless chicken.
And finally, I'd leave you with this—as a parting gift from the future that you are helping to shape now with your daily choices and actions:
There is much joy and vitality that moves in as a consequence of doing anti-racism work.
You might have read this letter and be feeling a bit overwhelmed. That would be natural. It's a lot of information—a year's worth of information—to absorb at once, so take a deep breath with me. After all, I'm here at the end of 2020 writing this, living proof that you made it to another year—and an EPIC one, at that! It's not all heavy and hard and overwhelming. There are many shiny bits of joy, life-giving encounters and deep pockets of fulfillment as you do this work. Tap into this, and you will tap into something bigger than yourself. Hope and a vision for brighter future will be waiting for you as a result, I promise you that.
All my love and some hot coals of inspiration to keep you warm for your journey ahead,
Lael