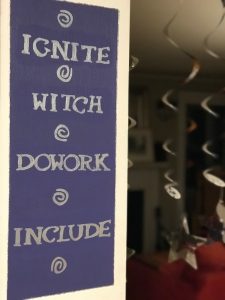 He looked at our words painted on the wall, then he looked at me. "
If I were you, I would have chosen Queen…
"
That was my youngest son—the oracle Buddha boy I grew inside my body—saying that to me four nights ago. The night the moon was so bright and so full, it kept me up. The night I finally got up and pulled the switch. The night I laid it down. And painted it on my wall like a promise.
Sound dramatic? I assure you it's not. It's how magic works.
This might come as a surprise to you, given what I do for my living and all, but I've never really been a big fan of goals. That very word makes me raise my left eyebrow in a challenge…you know, the facial expression that conveys the "you're not the $#&#@ boss of me" look. And let's not even talk about the whole "New Year's Resolution" beat…. that phrase elicits the raised eyebrow/pursed lips combo that reads: "nobody puts Baby in a corner. Dude."
There's a longer story there that involves a rebellious spirit filled with wanderlust, a leaning towards things left-of-center, and an penchant for upsetting the apple cart of authority…but let's just leave it at this: While working in the corporate world (goal central…) one day, I saw this sign in someone's office:
"If you always know where you're going, then you'll never get a chance to end up anywhere else."
I remember reading that and something in my whole body exhaled. Permission moved in…to NOT know, to NOT be so rigid in my plans, to NOT move in a direct line from A to Z, collecting my $200. I swear something in my body that day decided to move through life a bit differently than what I had been told and trained to do so well.  Something in me woke up—
A desire to wonder. A desire to wander. A desire to figure it out as I go.
And yet…I wanted things that required some planning, work, and even training to accomplish. Things that scared me, overwhelmed me, and felt like a challenge because they were new, audacious or wildly out of my comfort zone.
In short, I wanted to live a brave life. I also love a challenge. And I get bored easily.
So what to do?
Enter, stage left: intention and our wall of words.
For the past eight years, my family has this ritual of painting "our words" for the year on our kitchen wall. The words we choose cannot be more than seven letters—not for any mystical reason, but for a very practical one (the wall is only a thin strip between two doorways so space is limited). Sometimes words are picked with a great deal of advance thought and reflection, and sometimes serendipity is at work and our words are delivered to us at the last minute in random ways. Sometimes we know exactly what our word means for us, and sometimes we just get this vague sense that the word will be a teacher or a guide into something we cannot yet see or understand. It doesn't matter how we arrive at this word, and there is no one "right" way to do this.
What matters is that the word feels like an intention we want to hold for the year.
The operative word there is FEEL As in "I don't know , but something about it just feels right.." or "it feels good to me…"
The word we each chose to paint on our kitchen wall each New Year's becomes our traveling companion for the year ahead, like a intention kissed by our soul, and released into the void during the darkest time of our year, like one of those paper Chinese sky lanterns lit by a candle and carried aloft in the nighttime sky. I guess you could say the word is a living prayer. Which would make our home a sacred temple.
So back to my oracle son and his comment the other night…
In the weeks leading up to the moment of actual painting, my youngest heard me talk aloud about the words I had been considering, just as I had heard his (we're the two talk-alouders in our family, and as such we tend to seek each other out…). He heard my original choice was Witch for 2018, and how that one opened up to Queen as an option, which led me to Rise, then Fly, only to have me arrive back where I began….at Witch.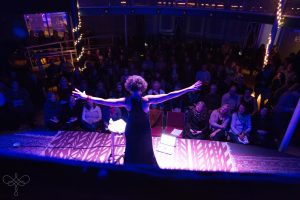 What he didn't know—because I hadn't even admitted this to myself yet—was the degree of information and intel from the universe (call them signs if you'd like…) I had been getting that were consistently pointing me in one direction. The very direction he called out to me on that night. After the deed had been done and the paint was already drying on our wall.
Queen.
If I were to be honest, it was how I felt on stage at SheSpeaks, my evening of women's storytelling, held for the eighth time late last year, and it mirrored the comments people made afterward about how they had never seen me as that radiant, powerful and comfortable in my own skin as they had that night. And when the pictures came out of the evening from our photographer, people literally said I looked like a QUEEN.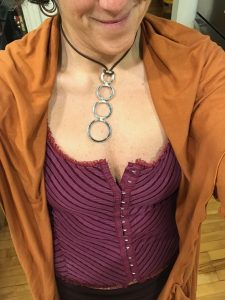 And then there was the spontaneous video on Facebook I did about the word "empowerment" because I couldn't take it anymore, and was concerned that word wasn't serving women by using it—even as I knew I was speaking ill of one of the sacred cows of women's business models. My annoyance had outweigh my silence and hesitation so I finally gave it voice, and as I watched the comments flow in—both validating and illuminating in different perspectives, I was reminded of the power of our words we use as women and about women and was heartened to see the words I'd been playing with such as "sourced" and "sovereign" were picked up in its place.
Earlier that month, I had gone to a Qoya dance class and spontaneously decided to wear this top I had stuffed in my closet – the one I'd never worn because it was, well…too much…not me, not appropriate. Sometime during the evening, my friend who was leading the session paused, pointed at me in front of all the women gathered, and said "Can we just take a moment and admire that top…and how you look like a QUEEN in it?"
Then there was the moment I was preparing for my women's circle in December, doing the readings that I assembled, and read a passage from Rochelle Schieck's book Qoya as if I'd never read it before. My eyes glued to this passage and my heart swelled in my chest with recognition…and desire:
"Qoya, in Quechuan, translates to QUEEN. Not a bejeweled, emotionally distant woman holding a position of power, but a feminine manifestation of a higher consciousness. She is the embodiment of the four phases of feminine evolution: Maiden, Mother, Queen, and Crone, all at once, because as Queen, she is sovereign…she is the woman willing to be wildly reverent to her instincts and inner wisdom…[She] is the one who sits on the throne that is [her] life."
I thought about random stuff, like how I had this book The Star-Touched QUEEN  beside my bed for over a year and hadn't yet cracked it because it felt, too….something. Like I wasn't ready for it or worthy of it.
I thought of how I'm literally writing a book right now about women NOT waiting anymore (to want what they want, to be who they are, to take action on what they feel, see, and know…), and how so often we have nothing but green lights in front of us, but are holding ourselves back with our foot on the brake. Because of our fear.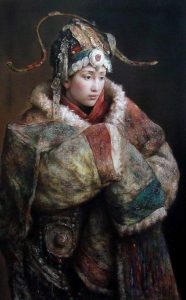 I thought about how a woman I'd never met on my SheChanges Facebook page messaged me with a link to a post and wrote: "I saw this and thought of you, beautiful teacher…" and how how I'd immediately saved the accompanying image that came with it as my lock screen on my phone because she looked like a QUEEN…"
"A true healer does not heal you; she simply reflects back to you your innate capacity to heal. She is a reflector, or a loving transparency. A true teacher does not teach you; she does not see you as inherently separate from her, or less than her. She simply reflects back your own inner knowing, and reminds you of the vastness of your being. She is a mirror, a signpost."
I thought about all of this as turned off the lights in the house and walked up the stairs to go to bed that night. I wondered if I was meant to paint Queen and chose Witch instead. I reminded myself that there wasn't a "right" word, and that the deed was already done and the paint was drying. I told myself to let it go. To move on. It was too late.
And then I heard a small voice inside myself say this, almost as a whispered negotiation: Let's just see how Witch goes for you this year…and if you can live up to that, THEN you'll be ready to choose Queen next year…
That's when I put down my toothbrush, looked at myself in the mirror with my mouth full of toothpaste, and said:
Holy shit, that word QUEEN scares the shit out of me.
You know where this is going, right?
Now many of you reading this might like to paint me as a woman who's fearless, and that's very kind of you. It's also incredibly inaccurate. I, frankly, don't know what I would do without my fear because it is what I use to point me in the direction of my truest desire. Every. Time. It's why I am not a fan of the whole "fearless" mindset. No thank you.
What I fear is often the key to what will set me free.
The biggest mistake we can make, I think, is to not notice our fear—to pretend it's not there. To close our eyes to it. This doesn't mean we hand over the tiller to fear. Quite the contrary. What I'm suggesting—and what my clients and I look for together—is to captain our ships and chart our course by noticing where fear doesn't want us to go….and then go there, in that direction. Unless, of course, it's a dark alley. And therein lies the tricky part…discerning feelings of fear that have us play small from our survival instincts that can help us stay alive.
But I wasn't going to die from being a Queen, right?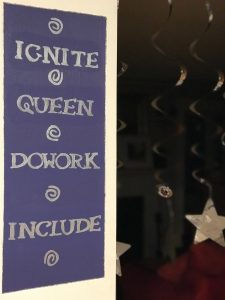 I thought of the story Marsha Greenberg told on stage at SheSpeaks back in December, about drawing a continuum that represents our life—on one end having the year you were born, and on the other end writing the year that you guessed you might die (she picked 90). She suggested drawing a line to represent your current age, and then spoke about the choice we had in looking at the time remaining: we could freak out or we could get busy.
I've thought a lot about that since hearing her story. And how 2018 is the year I will turn 50—not in a dramatic or dreaded way, but in a way that shines a light on the stark reality that I have now lived more of life than I probably have left to live. Which means I have a choice to make.
I am choosing to get busy.
That night, thanks to my oracle son and the mountain of evidence he reminded me I had, I spit out my toothpaste, marched my ass downstairs, turned on the lights again, and painted over my word on the wall. I broke my own rules. I defied the drying paint.
I made myself sovereign. Because that's what Queens do.
So here's to sitting on our thrones more honestly and fully this year. And here's to repainting our walls even though the paint is dry, the lights have been turned out, and everyone has gone to bed. Here's  to more of us not waiting until next year to get busy.
Here's to 2018 being a year to remember.
Because if not now, then when?
Feel like getting your boogie down and burning off your Saturday Night Fever for a good cause? Join me at HerMojo January 13th (100% of proceeds will go to benefit Planned Parenthood!)
Hungry for more storytelling and inspirational mojo, grab a ticket for my Unscripted Evening on March 15th.