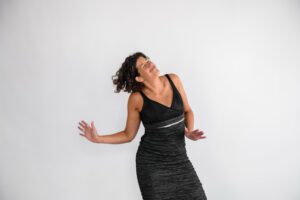 Last week I wrote about
the empty spot
I was feeling inside me. The one that was created when
my book was released
, like a recently vacated womb.
I didn't plan on writing about that. That post started out as something entirely different.
But then I felt it. The way my writing shifted – first coming from my head, then moving further down inside me, until it was sourced from my heart alone.
Writing that post was like uncorking a bottle. I felt myself exhale deeply, and felt fresh oxygen swirling in my blood. I felt my whole body relax. I felt aligned. Validated. Loved.
That's what writing does for me. It's how I live my prayer. 
I heard from so many of you after that post was published. Once again, I realized I'm not alone. It turns out many of you are living – and feeling – similar versions of my story.
You've stopped working (which you are clear isn't "retiring"), and are consciously sitting with the void that the absence of "work" has created.
The kids are grown, and the house is quiet and empty, leaving you wondering who you are now – and what you want next.
A sick child or an ailing parent has called you to take time off from work, and as you wait for test results and navigate the health care system, you find you are lost in thought, taking stock of life and tenderly touching what matters most. 
You've just navigated a number of rugged transitions over the course of the last year and are suddenly aware that life is just too, well, quiet – which is foreign and disconcerting given the noise, trauma, and drama you had grown used to.
You just had a baby, which had you pause your busy life and fast-track career, and now you're questioning everything as a result.
You left a career that you could have resigned yourself to be happy in (had you successfully convinced yourself to stay), and now you find yourself sitting in the empty space that job used to fill – which is weird and wild.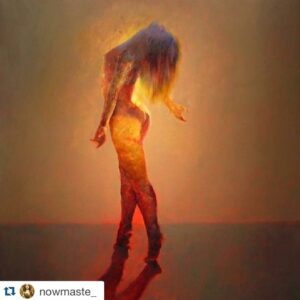 It seems many of us are consciously sitting in empty and open space – space we have designed with a great deal of intention – that now we don't know how to be in. We are asking ourselves, how, exactly,  do we "do" empty? No one trained us, taught us, or showed us how to be in this place. Hell, most people don't even talk about this.
But I will. Not because I have the answers (because you know I don't), but because that's where I find myself now, and writing is how I figure myself out – how I slow myself down enough to see myself. It's me, the extrovert, "writing out loud."
I went to an acupuncture appointment last week for this first time in three years. Not five minutes into the session, his needle found its way into a block in me that felt like it was the size of Madagascar. I literally felt electrocuted by the sensation of the block being removed and all my chi flowing through me once again – like when a great surge of water is released from the dam on the river in rafting season.
This guy is as close as I know to a medicine man, and I go to him because of that. He'll periodically stop and read me a poem or tell me a story that inevitably is connected to the messages my body is trying to tell me. And so, when this block was removed he stopped and – seemingly out of the blue – asked me if I knew what my virtue was.
"Huh?"
He asked me what my astrological sign was (at least I knew that: Scorpio), and then picked up this book that talked about the virtues of each sign.
It turns out the virtue associated with Scorpio was "patience," which literally made me burst out loud laughing because that is not something I've ever felt I've had in my possession.
But then he kept reading aloud, telling me how the shadows of this virtue are "rigidity" and "impatience."
…and BINGO was his name-o. Those are qualities I knew on a first-name basis.
Lulled by my free flowing chi and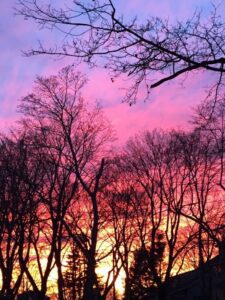 the sound of his voice, I listened until he uttered a phrase from the book that made my breath catch in my chest: "The Plentiful Void."
My mind conjured up images of rolling fields covered with white snow and how it sometimes blends seamlessly with the horizon. I thought of Maxfield Parish's Hilltop Farm painting with stark trees set off against winter sunsets at twilight.
Plentiful void… Plentiful void… Plentiful void… 
That one phrase described the empty space I had been intending – sometimes forcing – myself to honor in these days. He paused in his reading and said that it's only by spending time in the plentiful void that you can bring some light to the darkness.
That was such a gift, that phrase. Because the word "plentiful" held so much more appeal for me than "empty." It had hope. It was magnetic. More than that, it promised to be deeply nourishing. Like a feast.
And that's when I remembered: finding the right language to describe what I want helps me to drop down into that desire more fully. It breaks down my resistance. I had been calling it "empty" before, which had me feeling self-conscious and aware of the slow passage of time, anxiously glancing at the clock to see if I was "done yet." But "plentiful?" I happily lost track of time when I held the void that way. It was like a soul nourishing trough had been placed in front of me, and I was a happy pig.
Nothing had changed, and everything had changed. Just by choosing my words with intention. 
The next day I happened to be talking with a good friend about this space of "not doing" more than what's absolutely necessary these days – and how I feel a bit gangly and self-conscious in it, like a newborn colt walking on its legs for the first time.
"Do only what erupts from your soul, Lael."
I swooned a bit when she said that. Because inside that phrase was permission. Permission to honor my body's wisdom, my deepest knowing, and my instincts. Permission to honor with the added promise of nourishment for my soul.
I was reminded of the client I had been working with earlier that week who, poised to give herself permission to govern her actions by her truest desire, paused and asked (herself more than me), "Am I allowed to do that?"
My response to her was, "Want to find out?"
But I get her question now more deeply, being at that place myself – the intersection of desire and duty. That place of wanting something that feels decadent, delicious and divine – of taking a hot bath in the plentiful void – but worrying that it's somehow not allowed, like it's selfish, greedy or overly indulgent.
But the reality is that I am hungry. And that suggestion from my friend felt so luscious to me. I found I just kept saying it aloud, letting it roll around on my tongue like a good piece of dark chocolate. I wanted to savor its sweetness before swallowing it down.
Only say yes to what erupts from my soul.
Over the last week I've taken that invitation to heart, and here's what I've noticed is erupting:
MAKE ART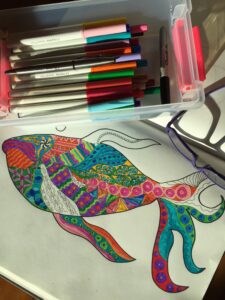 I recently heard Elizabeth Gilbert talk about how important it is to "feed" our creativity, lest it wreak havoc in our lives. She talks about creativity being like a dog, suggesting that if we don't throw it some sticks to chase, someday we'll come home and find it has eaten the couch.
That got me thinking about how the book I had just written has been like one of those automatic tennis ball chucker machines you see at racquet clubs, hocking ball after ball for my happy creative dog. And now it was empty. And quiet.
So I pulled out my art journal – the one that I'd forgotten about – and found my way back to doing my art thing – drawing designs and coloring them in with crayons or markers. I lost myself for hours doing this – in a good way. My mind quieted, my heart was happy, and my creative dog settled in for a good chew. The couch remained in one piece.
GIVE FROM THE HEART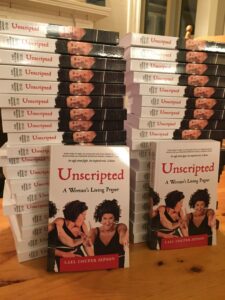 This began in earnest when two massive boxes arrived on my doorstep containing forty copies of my book. I actually remember salivating in anticipation of what I was about to do: thank people. My plan was to send a book with a hand-written note to every person that had supported me in writing this book over the past year – editors, photographers, designers, guinea pig readers, comic relievers, ass kickers, body/mind/spirit healers, I believe in you champions, sounding boards… And I did write to all of them, savoring every last bit of that act.
But then something else happened. I found I did other things like surprising someone with a wild flower delivery "just because," and picking up an extra tub of lotion for the owner of a studio because every time I went to class she complimented me on the scent I was wearing. I made time in my day to send cards to friends and family – to celebrate a birthday, to acknowledge a sick parent or child, or to simply let them know I was thinking of them. I called friends I hadn't seen in ages and told them I loved them.
It felt so deliciously good – like I was giving back and making heart-felt deposits into a universal system that has given so generously to my life over the past year.
TELL BIRTH STORIES
After the birth of my first child, in those first few weeks when people would come to visit and meet the baby, I found I kept doing the same thing: telling my birth story. People would ask about it, and I would tell the story. Groups of new mo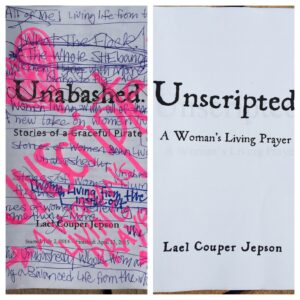 ms would gather at someone's house and out it would come again, sometimes with new information and insight. Again and again I would caress this story of birth, and now I know why:
Much like an animal will lick her newborn right after birth to get it to breathe on its own, I was rhythmically stroking a major life event with my words, helping me to process something that had transformed me from the inside out.
So, not surprisingly, that desire is something that naturally erupted from my soul after the birth of this book. People asked about it, and I would tell the story – of conceiving it, writing it, having it edited, re-writing it, designing the cover, writing the copy, publishing it, and hearing the response as people started to read it.
And then something curious happened. Much like the dynamic that occurred in the circle of post-partum mothers, I found I was also hungry to hear other's birth stories. It wasn't a conscious choice as much as it was a gravitational pull. I started reconnecting with friends I hadn't seen in years who had gotten divorced, fallen in love, left jobs, started businesses, moved, or lost parents, and I listened as they told their stories of upheaval and transformation.
I'm finding that the simple act sharing of stories has the power to bring connection, perspective, warmth and community to the void, offering solace and sustenance at a time when we'd otherwise feel isolated and alone with our thoughts.
FEED THE SENSES
This one has been interesting and the most surprising eruption.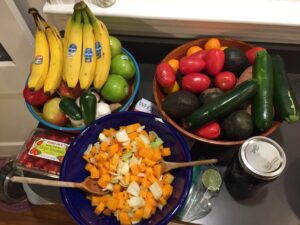 It began with a desire to unload my body of all the toxins that I had put in and picked up in my body over the course of the last year (you don't want to even know how many M&Ms I consumed in writing that book…and the caffeine? Oy.)
Our whole family did the Whole30 cleanse beginning on January 1st. How original, right? But when we decided to start the year off like that, it felt like much more than simply a New Year's resolution. It was more like getting the windex out to give the white board in your office a good scrub down – not just erasing it, but actually cleaning off the ghosts of meetings past. It was truly refreshing – having me feel squeaky clean.
And then other stuff happened, like wanting to use more essential oil, and eating our dinner by the fire every night, and taking hot showers with lavender soap before bed. I started to make concoctions of seasonal tea, discovering the medicinal powers of turmeric root, which I mixed with ginger, cinnamon, lemon juice and cayenne pepper.
It was like all my senses were starting to wake up from a deep slumber in this plentiful void, noticing the colors of the sky, the texture of fabric and the scent of the wind. All of which made me hungry for more. Like a domestic animal returned to the wild.
DANCE FREELY
And finally, this eruption – which was my first, and will always be my favorite of the lot.
When my book first came out, my immediate response was to dance. First it was around my living room with my book, then it was with my kids, and then it grew to wanting to have a big dance party with a bunch of my friends. I envisioned really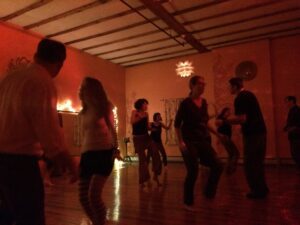 loud music and getting sweaty happy with some of my favorite free spirits, playful misfits, and fierce freak-flag wavers. I made a list of forty people, and tested the water by texting some of the people who would be traveling the farthest to join me.
And then I freaked out a little bit. I started to worry that no one would come because of the weather or the fact that I was planning it for a holiday weekend when a lot of people would be heading off to ski. I started to feel vulnerable.
It did, in fact, snow – enough to almost have me cancel it. But a good friend who knows me well insisted I go through with it, reminding me that this was a moment that might never come again. And my husband, good man that he is, reminded me that at the very least, it would be just the two of us dancing together, which wouldn't be a bad thing.
A pile of people ended up rallying to join me and we danced our asses off that night for three hours under a disco ball. Sweaty, wild, loose and fluid, we stomped, strut and shimmied until we were slick and sated. Frankly, I find I don't want to stop dancing these days, having recently discovered Buti Yoga, which has felt like it's reintroduced me to my body again.  It's been the gift that keeps giving.
All of these eruptions happened because something wise in me decided not to get busy. 
All of this happened because I got curious instead of critical, stayed open instead of shutting down, and listened deeply instead of talking over my instincts and honoring the noise of life instead of the quiet of the void. It wasn't easy at first, I'm not going to lie. But having fully digested the first few spoonfuls of nourishment from that plentiful void, I will leave you with this:
Juicy eruptions continue to keep bubbling from my soul like an endless font of desire I've tapped into. And truth be told, I'm not eager for them to stop. And in case it's not patently obvious, what I'm talking about here with the plentiful void is plugging into and feeding the feminine energy in me – the parts of me (my emotions, my intuition, my spirit, my body) that live deep in the quiet of my soul: my roots. If you want to know why I'm so hungry for that or what I mean by the feminine, I'll gently point you in the direction of my book, where I offer 38 deeply personal stories that have helped me to figure all that (and indeed, myself) out.
So I think I'll just stay in this place for a while to see what else I discover. But feel free to join me. The water – and the food – here is mighty fine.