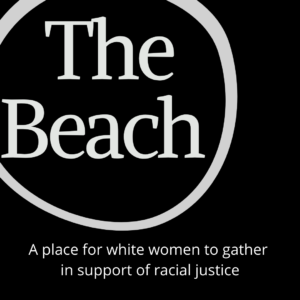 I want to talk to the white women I know for a minute, so come a bit closer if that's you.
Are you feeling it?
That sense of urgency despite the exhaustion and overwhelm that ticked up a notch this September?
That reignited flame in the core of your being when you heard the news about Ruth and then Breonna?
That sense of "winter is coming" that feels very different and no joke this year?
That intense focus starting to happen inside you despite the noise that gets louder by the day and list of things to do that grow exponentially?
I feel it, too.
Those sensations are real and it matters now more than ever that we respond to them.
It's not just you feeling them.
There are legions of women with you who are rising up in action, their eyes trained on the horizon 36 days from now.
Nobody knows what will happen the night of the election—or what will happen between now and then.
But I do know this:
I know how I will feel if I do nothing.
I know how I will feel if I choose not to participate in THIS moment…or the next moment.
I know how I will feel if I kick the can up the road or succumb to my excuses.
I know how I will feel if I just "mail it in" and take a few performative actions that make me feel good.
I know how I will feel if I just talk the talk, but don't *actually* walk the walk.
Years from now, when my granddaughter (or whomever is the next woman in my line) looks at me and asks:
What did you do to fight?
How did you take a stand?
How did you respond?
What actions did you take?
I want to have answers for her.
I want to say more than I read a few books, watched a few documentaries, gave a few dollars, or put a Black Lives Matter sign in my garden.
These help, but I have more in me to give. I want to be able to offer her—and our world—more of a substantial answer.
I want to tell her how I used this one life I've been given to help dismantle white supremacy.
I want to be an inspiration to her to never lose hope. Ever.
As I write that now, that feels….daunting. Hard. Dangerous, even.
Like I'd be getting my hopes up.
Setting myself up to fail…to be disappointed…to be wrong about my belief in our humanity and what we are capable of creating together.
And yet. What's the alternative?
To not….do? Not care? To roll over and pretend our house isn't on fire?
That, my friend, is why I created The Beach as a gathering place for white women.
Not simply as feel-good invitation or a chance to put our money where our mouth is (100% of the proceeds to The Beach benefit the Loveland Foundation's Therapy Fund for Black women and girls), but as a beacon that calls to white women, again and again, in these dark times. To gather us together, to do our work—however that looks to us individually—as white women. To show up in the dark, to move closer to the fire, to light our torches to the flame, and to bring it back out in the the darkness to let other white women touch their torches to ours for inspiration, motivation, and hope for our future.
I watched this amazing excerpt from an interview Pete Buttigieg did with Glennon Doyle the other day (no idea the context, but no matter).
She refers to a "moment of sobriety" she had when her eldest daughter pointed out that Glennon and her family weren't *actually* marching for BLM, but were talking about how they wanted to. She then goes on to say (at 3:02) that since writing her last book (Untamed) she wishes she had focused more on HER WHITENESS as a topic, rather than social justice in general…and she talks about "the deal with the devil white women made…like, we will accept our proximity to power, and all the privilege/protection that gives us, but in exchange we will never ask for any real power, and we'll stay quiet and grateful and the cost of that will be our full humanity."
She talks about what her Black activist friends have been trying to tell her: "Don't come here to save us. You people need to save yourself. You have lost your humanity. White supremacy has cost YOU your souls.
Holy shit. There it is. That call to white women again. Remember that….from Nov 2016? Back when so many of us white women didn't get the concept of intersectional feminism yet?
That, my friend, is why I was moved to create The Beach. This is me coming to get my white people.
And when I say "moved" to create, I mean MOVED. Like I didn't have a choice kind of inspired-moved where my fingers flew over the keyboard as I learned an entirely new platform in a week. The I-have-no-earthly-idea-what-I'm-doing moved where you just GO WITH IT and figure it out on the fly. That was me this summer. And as more and more women find their way to The Beach, I just refining it as I go.
I created The Beach in June, opened it for registration in July, and to date there are 21 white women as members, and we've donated nearly $1,500.
Some of these women became members because they liked the idea of donating to a good cause, and that's awesome! Our money makes a difference.
Some of these women appreciated the curation and organization of all the resources I've gathered up for us in one place, and that's cool, too—I'm happy to created the space to "grab and go" as we do our work as white women.
Some of these women hold themselves accountable and deepen their learning and racial literacy by writing comments or engaging to discussions, and that gives me tremendous joy. I LOVE connecting women.
A number of these women, however, have discovered the power of the LIVE Bonfire—the monthly call where we gather real-time.
I was TOTALLY resistant to doing these monthly calls, by the way. I did it because a number of women wanted them, but I didn't think I would like it—much to people's surprise, groups really aren't my thing, and I thought I'd resent it.
But if if you ask me now, the LIVE Bonfire I hold over Zoom on the last Tuesday evening of every month is where the real ass-to-the-fire magic lives.
Our September LIVE Bonfire is tomorrow night (Tues, Sept 29th at 7:00-8:00 EST), so if you're reading this now, you're not too late.) You can become a member and join here—in just a few minutes, easy-peasy.
As the Creatrix of The Beach, my intention is to hold space for white women (like me) to do our racial justice work, understand our whiteness, our privilege and the power we have to affect change.
As a member of The Beach, my intention is to show up to myself and my own work with my whole body, to get messy what I find, to get real with the truth, and to face what I have looked away from most of my life.
It's working.
Women are saying things like this:
"The Beach calls are an amazing opportunity to reflect, learn and be inspired. Lael has created a thoughtful and intimate space. As usual."

"Lael has put together a brilliant platform. As I explore my own complex feelings and deepen my understanding of anti-racism work, I'm comforted and grateful to have a space to connect with like-minded women. If you're looking for a place to recognize and explore your whiteness for the first time, as I am, this is a wonderful place to do that."

"The Beach has kept me accountable in doing necessary work to be educated about systemic racism." It is a group that I feel comfortable sharing in, engaging in challenging conversations and taking steps forward to make a positive difference."
If you're a white woman reading this email, then chances are you relate to something I'm saying or doing—something in you resonates with something in me.
Maybe it's our whiteness. 
Maybe you already know about The Beach—maybe you're even a member.
Or maybe you've seen flashes of it and had intentions of checking it out, but life is so busy and moves so fast it just didn't happen yet.
Or maybe you've never heard of it, but it's finding you today for a reason.
Whatever the reason, I welcome you to come a bit closer.
"The problem with the 2016 presidential election is simple: White feminists did not come get their people." – Brittney Cooper
That's why I'm reach out to you directly today. I'm coming to get my white people.
And starting now, I'll be popping out here on my blog with a bit more frequency with a gentle Lael nudge—maybe with a hot coal from our fire at The Beach.
Not to add to your long list or to "should" you or put any extra expectations on your pile.
But because we have 36 days.
And whenever women gather together with intention—magic happens and mountains move. This, I know.
Here's an invitation to join us at the LIVE Bonfire tomorrow night
(Tuesday, September 29th from 7:00-8:00 EST). It's really quick to become a member, 100% of your registration fee will benefit the Loveland Foundation Therapy Fund, nothing needs to be done in advance of the call tomorrow nite, just come as you are with whatever you've got. Or not. But you will have activated yourself just by making the decision to join.
Here's an invitation to share this email with the white women in your life. Keep it simple and just forward it to 5 white women in your circle. Tell them I said hi and welcome them into the fold. Assure them the women on The Beach are as discerning (and busy!) as you are, but you KNOW if you ask her directly, she'll trust you and come. Use the buddy system and you won't get lost in the muck and mire of the everyday.
Here's an invitation to check out The Beach sooner than later. The first few sections are free for non-members (you'll just have to create an account, but there is no obligation to buy) and will give you a sense of what's waiting for you if you decide to become a member. You'll know if it's meant for you.
I'll see you out there, Sister. Maybe I'll see you as soon as tomorrow night at the LIVE Bonfire tomorrow night. Or maybe I'll just meet you here and share what I've got from my pockets.
But feel me with you on this ride—right by your side.
xo
Lael