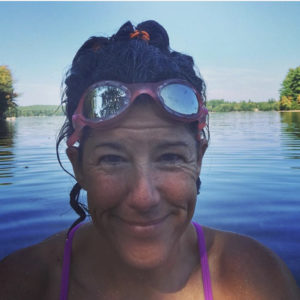 When I was in high school, I went through the rigorous process of becoming a lifeguard, learning water safety, rescue skills and the basics of first aid, CPR and how to mobilize someone in the event of a back injury.
It made sense that I was drawn to this, even as most knew me to be a runner. Water, it seemed, was my first home. My mom used to call me a fish because once I got into a lake, it wasn't easy to get me out. I was born to be in the water.
The following year, I went on to get advanced certification in Water Safety Instruction (WSI), which would allow me to teach others how to become lifeguards.
Little did I know how much this training would come in handy during a pandemic.
One of the grueling feats we had to do in order to pass our WSI exam was to swim the entire length of an Olympic-sized pool underwater using only one breath. I don't know if you have every tried this, but holding your breath for that long, while simultaneously propelling yourself underwater from one end to another is….challenging. Not impossible, but damn close.
I've been thinking a lot about that underwater swim these days as I've read the headlines, heard the "let's return to normal" drumbeat start up, and felt the impatience of "enough already" with quarantine fatigue setting in.
I feel like we've all been collectively holding our breath, doing our best to propel ourselves through this time underwater—only without the advance lung capacity training, no concept of how long the pool is, and little to no comfort with being in the water, let alone swimming under it.
I still remember that panicked sensation of "I'm never gonna make it" in my body back then, when the only thing on the line was a failed WSI exam.
But this isn't a test. This is the bloody show. The real deal. The live stream.
Thinking back to that moment, I realized the only way I could hold on for that long is because I knew exactly how many underwater pulls it would take to get me to the end. I also knew how best to push off from one end of the pool to get a good glide going. I had practiced it to the point where I only had to exert physical effort to get me through the second half of the pool—a long glide, then a series of highly efficient pulls I knew by number.
And still the panic near the end, always, as my brain picked up the little red hammer and cracked the pane of glass, sounding the emergency alarm.
Is that where we are collectively? Almost out of breath, panicked, hammers poised to crack the glass?
As I was thinking about my experience at the pool, I was reminded of a story I read in Women Who Run with the Wolves by Clarissa Pinkola Estes. You might of heard this story before, as it seems every culture has a version of the seal skin or selkie woman who had lived on land for too long.
As the story goes, this woman whose natural habitat was the sea, fell in love with a man who lived on land. Because their love was strong, she agreed to leave the sea, shed her seal skin, and live with him on land for a period of seven years. In that time, she learned to breathe air and walk on the ground, eventually giving birth to a son.
After her promised seven years, she asked for her seal skin back and was denied it by her husband who had hid it from her. He was that desperate to have her to stay on land forever. She started to panic, feeling her skin dry up, as her eyes lost their shine and her hair grew thin. It was her son, finally, that stole into the night to find her hidden skin and return it to her.
I'll never forget reading the passage where she slipped back into the water, thinking of all those summers I spent by a lake, slipping into the black water like it was my home.
Indeed, Dr. Estes writes about this very moment as "homing"—when we finally return to ourselves and our essential nature.
Maybe that is why I'm so keen on women leading us through these transitional times. This is nothing new for me, as my business is now fifteen years old, but the energy I've been feeling in my woman's bones—indeed our collective bones in this SheChanges community—feels like it's heightened, intensified, built to a crescendo.
Women are poised to take us home.
Something in us knows how to do this—without the training or certification proving it. We just know what needs to happen when panic sets in and staying on dry land is no longer an option.
Because, in the story, the seal woman doesn't just take herself home, she takes her son as well.
"She took the boy's face in her hands, and breathed her sweet breath into his lungs, once, twice, three times. Then, with him under her arm like a precious bundle, she dove into the sea, down and down and down, and still deeper down, and the seal woman and her child breathed easily under water."
All it took to return to the deep ocean and remember we could breathe underwater as well as on land, was the love of a mother and the trust of her son to follow her lead.
I think about this a lot these days. Because we're not in a temperature controlled, chemically chlorinated pool anymore with lane lines to divide us and clear stripes painted on the bottom to show us the way forward.
We're in the big, blue ocean now and it is as wild as it is deep.
______________________________________
Can I get an amen to that? Does any of this resonate with you over there or is this just my truth? If you like what you've read here, you're really gonna dig my second book Ignite: Lighting The Leader Fire released last November (2019). I go into this and much more in this book that is both a heat-seeking memoir and a fiery missive for women to assume the helm. 
Looking for more inspiration or want to do a deeper dive into your own conversation as a leader? Check out these upcoming events:
Ignite with Me for FREE: My Online Courses are here! 
My first online offering, Ignite with Me, was arrived today to the dashboard of all those women who pre-registered for it a couple of weeks ago. I had a BLAST putting together this five-module course that enables you (or your bookclub) to go for a deeper dive inside the pages of my second book Ignite: Lighting the Leader Fire, and is chocked full of new content, discussions, videos and exercises to take the concepts of the book and apply them to your own life— all without ever leaving the comfort of your home! This work has been in the works for a while—thanks to your enthusiastic requests for it—so I'm really excited to finally be putting it out there! It's not too late to register (did I mention it was FREE?), so come on in and join us!
My talk at The Women Of The (Virtual) Chamber on May 5th
If you missed the actual event earlier this month, you can catch the replay of my full talk along with the Q&A at the Women of the Chamber quarterly gathering. It was the first virtually one of it's kind, and I was really blown away with how many people came out for it—I've never quite felt energy like that in a virtual setting before. My talk was all about change powered by women—specifically what being woman has to do with being a leader, and why that matters now more than ever. If you'd like to check out the replay, you can find that over here at Portland Region Chamber of Commerce Replays