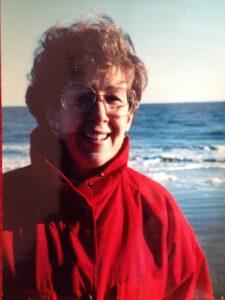 Forty-four years ago today, at 11:33 am, this woman and I made a rockin' team. Working together, we brought me into the world. And I am so very grateful. So rather than tell her how much I love her, again, I thought I'd go public with my gratitude to her.
And write her a love letter.
The day my mom brought me into the world was the first of many, many, many special mother-daughter bonding moments we've had. But today, on my birthday, as I feel so very loved with all the calls and best wishes from my family and friends and clients, I feel a mountain of gratitude to her for making all that – for making me – possible.
So thanks, Mom.
Thanks for calling me everyday on my birthday and telling me the story of my birth – even in those college years when I was still sleeping at 11:33…
Thanks for showing me your stretch marks on your belly and grinning your big proud grin, telling me they were reminders of one of the best days of your life…
Thanks for telling me again and again that the nurses in the hospital said they had never seen such a happy mother as you…
Thanks for taking one look at me and saying, "That's not a Julia…" and choosing to name me Lael instead.
Thanks for your courage to nurse me despite the shame and contrary advice you were given..
Thank you for continually pointing to your two daughters as proof that your first marriage was worth it because of us…
Thank you for making my childhood magical and safe and nutritious, even though you never had that yourself…
And most of all,
Thank for your showing me what a mother is…so I could turn around and be one myself one day.
We rocked it, Mom.
And we still are.
So here's to you! And me.
On my birthday.
Love,
Lael
PS: I know you've never liked this photo of you, but it's one of my favorites…so thanks for that, too (even though I didn't ask first…)