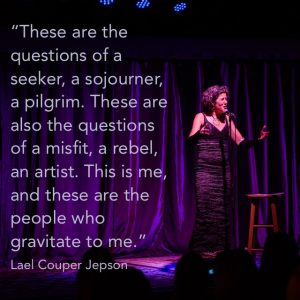 I don't know what magic lives in a bathroom, but whenever I'm in the shower I start writing in my head and have my absolute best insights. And whenever I'm going throughout my day with my hair on fire, sometimes the only moment I get to stop — and be with my own thoughts — is when I stop to pee.
Maybe it's something about water. Or maybe it's the small, private space reminding me of being in the womb. But there it is. And in case you're wondering I don't have some weird fixation on all bathrooms — I assure you I won't be spending time in yours if I don't need to be—and I most definitely avoid them in public unless absolutely necessary. No, for me it's about being in my bathrooms.
Ergo my problem of the ugly and cramped one at my office. It just wasn't cutting it. So in one of my massive procrastination bouts when I found myself physically spent and damn near brain dead after the release of my first book, I was struck with an idea: I was going to turn that shitty little bathroom into a booth of inspiration! If my clients and I were going to be trapped in there a couple times a day, we were going to be surrounded by a bevvy of images and a plethora of quotes, making it a veritable boon of motivation.
Now if you think about a bathroom, there are two distinct pieces of prime real estate for women (not counting the mirror, because by then I'm all about washing my hands and getting out). The first is the back of the door, and the second is the space right above the toilet paper holder, right? You with me? Ski areas know this, and libraries are also onto this little secret. That's where they know they've got a captive audience.
So naturally I thought long and hard about which of my selected quotes I would put in these two places. I felt a sense of responsibility. After thinking about it, I selected two of my favorites from the lot – the poem Now Works by Danielle LaPorte and The Good Life Project Living Creed (the original, not version 2.0) by Jonathan Fields. Danielle was above the toilet paper, and Jonathan was on the back of the door. And I swear every time I went in there, I felt like they were in there with me — not in a creepy way, but in an ear-whispering, soul connection, kindred spirit way; like I wasn't alone or crazy in doing this work and saying yes to being on this path.
Danielle whispered insistently from above the toilet paper roll DO IT, Lael….don't wait a moment longer. I know you're scared and you can be riddled with doubt, but don't you dare settle for less that what you know you want…be THAT brave…after all, isn't that what life is about? Riding it hard and putting it away sweaty!? Whatever it is, Lael…do it NOW. Now WORKS!
Jonathan's voice was relaxed and quiet, like we were two surfers hanging out together in the ocean sitting on our boards waiting for the next good wave to come along. His was the voice of the philosopher…or the stoner…saying Dude, do what makes you happy…we're all making this shit up, you know? So if you don't like what you're being, tell yourself a different story, you know? Like, we can do that…it's just a matter of giving ourselves permission and going for it, you know? There are no walls or chains holding us back, those are just in our minds…
I'm realizing as I'm writing these now, that these two are probably as close as I'll ever come to have a board of directors or an advisory committee. Or even a mentor. I'm that unstructured and informal. Truth be told, I'm an artist. Roberts Rules of Order and Bi-laws will never be welcome in my bathroom.
One day I sat down and I saw this particular line on the Good Life Project Living Creed jump out at me. It read: Genius begins with a burning question, what's yours? My first response was, "Just one?" It kicked up for me this this envy I have of many people I admire. I once saw a Brené Brown interview in which she had admitted she had never — not even once — watched the TED Talk that made her so famous. The one on vulnerability that went viral seemingly overnight. When asked how that could be, she responded that her decisions are governed by one guiding question, "Does it serve the work?" Apparently, after that massive explosion in popularity of her TED talk, she concluded that watching the video of herself telling that story did not, in fact, serve her work.
Gah! I wanted a governing question so badly in that moment. And now that I was staring at Jonathan Field's gentle ask about what my burning question was, I was starting to feel like something was wrong with me….like I would never be able to be a gracious host to genius, like I was an unfocussed, unproductive lazy sack of shit who was forever destined to be a classic underachiever. All that is untrue, of course — but I couldn't help but feel like I was doomed to forever wander aimlessly without something like one of those questions to anchor me. Did I even have a burning question? Why wasn't I burning?
But if I'm to be really honest — and that's what we're doing here, right? — I don't think I want a governing question to guide me. I don't want to be burning. I don't want a hard gaze on any one particular thing. I don't want to doggedly pursue or ferret out answers to a pointed inquiry. In fact, the more I think about it, I don't really have much energy around any of the traditional questions such as What, Why or How. Honestly? I kind of don't want to know the answer to those. They just don't give me juice.
How is it, then, that I've managed to design an entire business around my ability to be curious?
Because what does give me juice is noticing patterns in things — hearing, seeing or experiencing something and being able to recognize an arc that binds them together like a luminous thread. Pulling back from a multitude of data points and inputs and saying, Huh, have you ever noticed that this piece and that piece always seem to be present when that thing happens? It's what my clients pay me to do every day with them — to help them see themselves in their lives as they're living into a particularly bold stretch of their journey.
Apparently that's what creatives do in the world. The performance artist, Amanda Palmer, totally nailed this realization for me when I was reading her book The Art of Asking. She said that the hallmark of artists is that we collect things, we connect things, and we share them with the world. Amanda talks about seeing a leaf as a young child and saying, have you ever noticed that the veins in a leaf look like the back of your hand? She says that sometimes the lights go on in their eyes which made the sharing worth it. And sometimes she'd get laughed at.
That. Is. Me. I think it's why so many people refer to me as a storyteller — something that I had never set out to become, nor saw myself becoming.
While I don't believe in having one governing question to guide my life, I can't help but notice a clustering of questions that has emerged as I've been working with women one-on-one and in small groups and large communities over the years. Rather like the subtle rock pilings called cairns that mark trails above treeline or the faded blazes on trees or boulders along a pilgrimage, these questions have consistently appeared over and over to me throughout the years—enough so they form a pattern.
What's happening to me?
Can I really want this?
What the hell am I doing?
Am I willing to make an ass of myself?
Can we be done yet?
Houston, we have a pattern. And an ancient one, at that. When you consider how a woman grows, births and nourishes another human life inside her body, these questions are often present for her. When you consider falling in love, these questions ring true. Something deep within each of us knows how to be guided by these questions—to see them as markers of movement— and yet…we have forgotten them in our relentless quest for "knowing".
Inside these questions live our desires—the hopes, dreams, possibilities that inspire us to get out of bed every morning and believe in ourselves and each other, to believe in the power of love, the beauty of our world, and the gift of contributing to our conversation. These questions ask us to unearth and give voice to what lives inside our hearts, so that we might manifest it outwardly as an offering to our world.
Inside these questions live our humanity—the doubts, fears, and anxieties that bind us to each other as humans on this planet, reminding us that we are not alone and independent, but are all connected and therefore interdependent. These questions ask us to reckon with our discomfort so that we can rein in our unchecked egos.
Inside these questions live our humility—our insecurities, imperfections, and organic nature that remind us that we are animals and not machines, and as such are limited, inconsistent, and always changing. These questions ask us to live with the paradox of I'm not that special/important and I am special/I matter.
Inside these questions is a call to action and service—to assume responsibility for the life we have been given, and to get busy living it as an active, creative, resourceful and whole participant, and not a numbed, passive or entitled spectator. These questions ask us to be self-serving so that we may be of service to others.
These are the questions of a seeker, a sojourner, a pilgrim. These are also the questions of a misfit, a rebel, an artist. This is me, and these are the people who gravitate to me.
To be led by these questions requires a boatload of trust and a willingness to hold multiple truths. It also demands that we move in the face of the unknown, feel our way forward, and learn to navigate ambiguity, contradictions and messy terrain.
Notice I didn't say it requires comfort, skill, patience, grace or a fancy degree? Nope. Those are myths I intend to debunk on these pages.
__________________________________________________________________________________________________
The above story is an excerpt from the unedited manuscript of my upcoming second book: Witch Ways: The Unspoken Ways Women Create Change. If you want to read more about what's coming in that book, where it came from and when it's coming out, please check out my GoFundMe page for more information, access to five sample chapters read by me via SoundCloud, and frequent updates on where I am in the publishing process. I may be the birth-mother of this book, but you are its lifeblood, so this is indeed a book that is truly powered by women for women. Thank you for all of your enthusiastic support in helping me get this into your hands sooner than later!