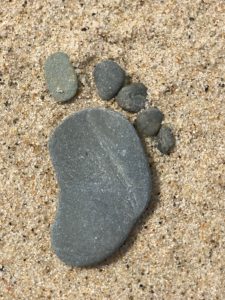 Someone once
wrote about me in an interview
, observing that "it seems she never stops thinking, considering, fitting pieces together." That woman got me, she did. She described how I move ("she talks with her hands and her arms, radiating exuberance…") and didn't seem surprised to learn that I was always writing in my head, jotting down notes to myself mid-sentence and had my next three books already fleshed out.
A former colleague once commented that I had lots of "pebbles in my shoe", which perfectly summarizes what that experience is like for me. I do my best to walk around "normally", but until I actually pause, and jot down the things in my head or talk them out, they are just going to rattle around in there messing with my gait, slowing me down and distracting the hell out of me. So a long time ago, I learned it's best to just stop and grab those pebbles as I feel them.
I used to be self conscious about this, even apologetic—like I was "too much" and needed to temper who I was and dole out bite-sized pieces of me lest others choke on my excess. I tightly guarded this ability of mine to weave together concepts and words because it wasn't hard for me. And wasn't anything worthwhile supposed to be hard? Was I cheating, somehow, thinking I could make a living doing something that flowed so naturally from me?
And then I heard these same phrases come my way time and time again.
Just say something…anything…
Whenever you talk, I always get something out of it…
You're a master storyteller…
Your stories on stage are the ones I wait for…
I get inspired just listening to you...
For years I batted those comments away, doing my best to graciously hide behind excuses of it not really being about me, not being anything special. In fact, I cringed a bit even sharing them with you now. Many times, upon hearing those comments,  I would diffuse the substance of what someone was saying with humor or by making light of myself, saying I just a dork at heart or a bit of a freak that way.
That was me, playing small.
I was afraid of seeming "all that" and being arrogant (because humility is one of my most treasured values).
I was afraid people would think I was full of myself and narcissistic (because come on…look around you…it's an epidemic)
I was afraid people would say "who the hell do you think YOU are up there saying that…?" (because I am honestly still figuring this shit out along with you)
I think it's a thing women excel at, dimming or hiding our light.
So often I hear women talk about "playing big", and that phrase always makes my heart break a bit. Because aren't we all BORN BIG to begin with? It's not something we learn or acquire or "play", it's something we are born with inside us. It's not any one thing we do, it's something we are. But so often our circumstances and life experience train that out of us…so much we "play small" and believe that big is something way outside of—or beyond—ourselves.
Sadly, this concept seems to only apply to women. How often do you hear a man talk about wanting to "play big"? Exactly.
Gradually though, over the years—of my life and in my business—I've started to see that it's actually selfish of me to hold all that light in me inside. Gail Larsen, an amazingly talented woman who supports others in expressing their stories, asserts we are all born with what she calls "original medicine" —the gifts and talents you and you alone possess that, when expressed, are medicine to others. Her invitation: Bring it. Give it. Share it.
I watched an absolutely incredible interview of Oprah Winfrey by the Stanford Graduate School of Business where she said her biggest fear used to be that others would think she was full of herself. Now, she admits, she sees it as her job.
To be full of myself.
That is my job description, quite literally. Because who else's job might it be, if not mine? I sure as hell don't want that to be society's responsibility. No, I'm the best fit for that position, thank you very much.
Most recently, this sentiment was punctuated for me when I watched Abby Wambach deliver her amazing commencement speech to the women of Barnard College this past May. She told the story of being coached as a teenager by Michelle Akers, a powerhouse professional soccer player who was so intent on coaching, she had inadvertently forgotten to actually play during a scrimmage with these girls…until a light switch turned on inside her and she ran back to her goalkeeper and said
GIVE. ME. THE. EFFING. BALL.
At which point the goalkeeper did, and she blazed through Abby's entire team and scored. And then she went back and demanded it again. And again, she scored.
Abby shared this story as an invitation to the women of Barnard College—and wolfpacks of women all around the globe who have seen this speech since—saying, "Women. At this moment in history, leadership is calling us to say:
GIVE ME THE EFFING BALL.
GIVE ME THE EFFING JOB.
GIVE ME THE SAME PAY THAT GUY NEXT TO ME GETS.
GIVE ME THE PROMOTION.
GIVE ME THE MICROPHONE
GIVE ME THE OVAL OFFICE.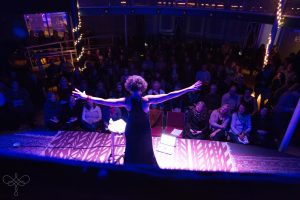 THAT is why I am committed to get out of my own way and unapologetically let my fullest self shine. I have that intention each time I step onto the stage in front of the audience at
SheSpeaks,
 my evening of storytelling in December, knowing that I need to walk my talk because I ask the women who join me on stage each year to do the same.
And THAT is also why I created ISpeaks, an unscripted evening of storytelling I have with just me—an event where I let lose all the pebbles in my shoe that have been giving me pause for thought, irritating the shit out of me, or grabbing my attention, weaving together the things that might have been on the cutting room floor from SheSpeaks (or my book), conversations that seem most relevant, or resources that have me and my clients talking or thinking differently.
Because honestly? I could do that all day long, weaving together the bits and pieces of thoughts and ideas swirling in my brain. Honestly, that doesn't feel like work to me—it's actually a relief to get it out. And bonus—having now held SheSpeaks eight times and ISpeaks four times, I know that when I can allow myself to be full of myself in public….its never my worst fear, and is generally my best medicine.
And that's where it's at for women, right? Being of service. Sharing our medicine.
I see it all the time when I'm working with a woman. If she can start to see how what she desires most will actually be of service to others…well now, she's unstoppable. She turns into a force of friggin nature. If she can see that she's actually being miserly with her medicine…well now, she throws open those cabinets with wild abandon and starts doling it out more generously and with less preamble or apology.
Talk about a win-win situation. Connecting with service is often all it takes to flip that switch that has her demanding the effing ball.
So I'm going barefoot on July 12th at ISpeaks, but I'm bringing along my shoes filled with pebbles. Because I've got 'em and am happy to share.
Want to hear more stories and reflections like this?
Join me on July 12th for ISpeaks: An Unscripted Evening With Lael in Yarmouth, Maine. Advance tickets are on sale now and will save you $5. I'll be speaking to some of the biggest pebbles in my shoe these days and will be touching upon many threads and themes of my upcoming book Witch Ways: The Unspoken Ways Women Create Change. My first book, Unscripted: A Woman's Living Prayer is chocked full of stories like this, too, and will also be on sale at that event.
And if you're a fan of SheSpeaks or want to be…
Save the date for this year's SheSpeaks, which has now been expanded to be a TWO DAY event, featuring the stories of 10 different women (5 each night) over two days: December 7th & 8th at One Longfellow Square in Portland. Tickets will go on sale —and go fast!—this fall, but save the date now to set the intention.