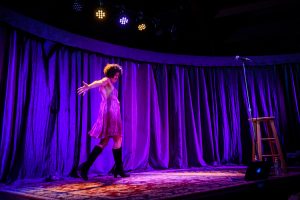 There are days I am convinced my entire life is strung together with a series of movie clips and soundtracks—connecting the bits of insights and moments of clarity in such a way that they literally reveal the breadcrumbs that have moved me forward.
That was the case the other morning when I woke up with Cher's voice in my head yelling "SNAP OUT OF IT". You know, that scene from Moonstruck, where Nicholas Cage's character has just professed his undying love for her? Yea, that one.
SNAP OUT OF IT! (smack)
My eyes flew open as I, indeed, had felt like I'd been slapped across the face that morning by…what?
Would you believe me if I said the Divine Feminine?
I can't blame Her, actually. Because in the days and months leading up to this moment, I'd been dragging ass a bit (gross understatement)—using the long, cold winter in Maine and the lack of ANY visible signs of spring as excuses for not doing anything…or having hope. I had been, as Brene Brown says in her most recent Netflix special: "engineering small" in an attempt to not look at or feel what was finding me. Because the truth is:
I'd been feeling in-between—no longer here, but not quite there—for so long I'd made it a bit of a home.
I'd been feeling overwhelmed, annoyed, and as my mom used to say "full of piss and vinegar"
I'd been feeling rage at the system, the government, our culture, and the assholes running them.
I'd been feeling righteous and full to the brim of vitriol—choosing to point out any and all examples of overt racism, homophobia and sexism.
Everything just felt wrong.
Are you catching the operative word there: "FEEL" (in shouty caps)?
These are the moments I'm so very fortunate to work with women. Because I hear their stories every day, and in them I often recognize my own. Which has me feel not so alone—or crazy, or just plain wrong.
This is especially evident when I do my work with women groups because our individual voices amplify to reveal the undeniable truth of our collective, that has it feel like it's bigger than just us—but belongs to us all. There is an audible sigh that can be heard in these moments, when you hear another woman give voice to something that you've only heard up until that point in your own head.
Alice Walker talks about how this being the "magic of women" that can only be understood by being in a circle of women. I once hear Meggan Watterson describe this perfectly. She said something about how you can do this work alone, but when you do it in the company of other women, it's like being on a slip 'n slide—remember those?
That slip 'n slide experience came to me late in life—probably because I spent the first 35-40 years resisting anything to do with being a girl, woman, or remotely feminine in my full-court press attempts to prove I was, in fact, "one of the guys." But then if you're reading this and know me at all, you're probably familiar with what happened next.
It led me to the door of SheChanges nearly 15 years ago, when I started honoring my hunger for the circle of stones energy and tapping into the magic of women—starting with my own.
So why was I still feeling like I needed to SNAP OUT OF IT?
Why was I still engineering small when I knew better?
A clue to this came the night before Cher woke me up yelling in my head. I had just run the fourth (of six) read-alouds for my women's writing experience In Her Words, and had listened as this group of five women from all over the country shared pieces of their writings (journal, letter, story) from that week's theme of "Choosing".
I lost count, but I believe the word FUCK was read-aloud nearly forty times in the short time we were together over the phone that night.
We laughed about it, joking that the theme that week should really have been "fuck."
FUCKETTY FUCK FUCK! WHAT THE FUCK?
Why does it feel like we're moving backwards?
Why do so many of us feel so undervalued and invisible?
Why does everything feel so hard—like it's a game we're being asked to play but can never win?
I've sat with these questions myself over the last fifteen years of working with women, and I realize I've been approaching my thoughts on the matter a bit….delicately…rather diplomatically. Or, as Rebecca Traister writes about in her (amazing) book Good and Mad, I temper my truth with humor and sarcasm—which might get me a good laugh, but can water down the potency of my soul fire fury with a liberal dose of my self-deprecation.
That's me, carefully masking my natural sledge-hammer self.
Apparently She's dangerous.
Because, you see, that's how I look playing the game—by being myself in carefully-measured doses.
And that, my friend, is why Cher was bellowing in my ear, just days before the full moon in Scorpio (my sign…) this month.
SNAP OUT OF IT!
I got up that morning—the skies still gray and the incessant drizzle still coming down on the ground in a Maine that was struggling and slow to make its way out of winter. I still was tired, I still was filled to the brim with piss and vinegar, but I felt like the last of my excuses had fallen out of a hole in my pocket when I got up that morning. And I didn't want to pick them up again. I felt…inspired. More clear.
As I walked to work that morning, I had something else in my head—this time a song by Sia…Come on, come on turn the radio on, it's Friday nite and I won't be long…I found I literally started STRUTTING down the cobblestone street, singing out loud:
'Til I hit the dance floor, hit the dance floor, I got all I need…
I smiled, as I remembered something a client had forwarded me on Instagram not too long ago:
"You should give a fuck. You really should. But only about things that set your soul on fire. Save your fucks for magical shit." 
This weekend's full moon in scorpio, is apparently an invitation to look at our deepest desires and the secrets in our hearts—a time to accept or uncover a deep truth we have been carrying. As a scorpio myself, I'm not entirely surprised it had its way with me—but combined with Cher's Moonstruck wake-up call, it acted like a one-two punch to my soul.
So here I am, writing to you under the light of a full moon in scorpio, getting naked with my (whole) truth. These are the fucks that set my soul on fire—the ones I've been secretly saving for magical shit. Truth be told, these aren't new to me—I've just kept them inside for too long. And I want them out.
Here is what I believe with all my heart and soul under the light of this full moon.
I BELIEVE women are the ones that will save us from ourselves right now.
I BELIEVE the world which men have made isn't working, and that we're getting diminishing returns on the same masculine values.
I BELIEVE men as are exhausted as women by "the way it is", but honestly don't know any other way to be other than what we've all been taught.
I BELIEVE the blessing of our times is that the levels of exhaustion, righteous rage, and dis-ease among women will unearth our innate resources.
I BELIEVE women will be the ones to integrate and intersect the whole of we are, rather than dividing us further into either/or.
I BELIEVE women are leaving toxic organizations in droves because they will be the ones to help us craft new, more vital models for how we work.
I BELIEVE that "toxic masculinity" is not solely about men, but exists in women as well—which means our collective healing begins with each of us.
I BELIEVE women of color have been leading us for years with little to no credit, and that white women are only recently arriving at this party.
I BELIEVE that rebalancing our world and our planet must begin with an infusion of the feminine, before it can be re-integrated with the masculine.
I BELIEVE we are hungry for the leadership women can provide, but it will require radical and revolutionary change to create that opportunity.
I BELIEVE white men will be asked to increase their competency and comfort with being uncomfortable—de-centering themselves.
I BELIEVE white women will be asked embody more fully all forms of the feminine—fierce (anger), power (voice), self-authorization (source).
I BELIEVE we have it in us to c0-create this next phase of our evolution—but it's going to require incredible of amounts of bravery and compassion.
I BELIEVE this is happening now—whether we're ready or not.
All of my work with SheChanges has consciously—and unconsciously, I'm sure—supported these beliefs of mine over the past fifteen years, but I don't know that I've ever actually STATED them as plainly as I have in the light of this moon.
This is me snapping out of it.
This is me not playing the game.
This is my sledge hammer self undiluted.
This is me getting naked with my truth.
______________________________________
Can I get an amen to that? Does any of this resonate with you over there or is this just my truth? Feel free to let me know if you're on this slip 'n slide with me. It feels good to hear from you—especially as I'm getting ready to publish my second book, Witch Ways, which is chocked full of more women's stories and pulling-back-the-curtain reveals on the specific ways women are leading change—that don't normally get talked about in the light of day (or the light of the full moon).
Or better yet, if you ARE a fan of my work and are out there cheering me on, please let me know you're with me by making a contribution to my GoFundMe campaign that will support me in putting this in your hands sooner than later. Any amount would be most appreciative, and would go a long ways in helping me to know I'm not alone, but am backed by a large and robust pack of women #wolfpack.
Click on this link or simply scan the QR code below to make that happen. Thank you! 
https://www.gofundme.com/shechanges-book-2-powered-by-women
And stay tuned for these upcoming events if you want to meet your people:
Thursday, June 13th
I'll be speaking about why women leave organizations at Disrupt HR in Portland. VERY excited for this one!
Thursday, September 26
SheChanges Leadership  Summit for Corporate Women— save the date, details to come!