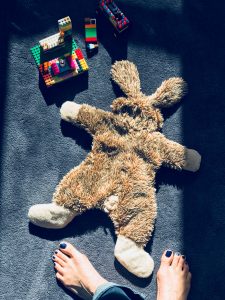 Dear March,
How is it, that after forty-nine years of doing this dance, I am totally blind-sided each year by you?
Would it have made a difference if I remembered the punch you pack with your one-two hits of snowstorms and virus that demolish our well-oiled machine of a home ? Could I have better anticipated, planned or even mitigated against the inevitable shit storm that ensues like clockwork each and every time you pull into town? Am I deficient in character or vitamin D, somehow— not physically, mentally or emotionally equipped with the necessary fortitude, self-care practices or time management skills needed to endure your formidable presence?
Am I simply no match for you, is that what it is? Do you get off on bringing me to my knees each year with your show of force?
I thought about all this, March, as I laid flat on my back in bed last week, hacking up a lung, sweaty with fever, and not-so-silently cursing you. And when I finally stumbled out of bed because I couldn't stand the look of my own ceiling one minute longer, I saw this de-stuffed, face-down bunny of Max's on the floor and thought:

This is what March does to me. 
If I'm being brutally honest—which actually is all your fault, March—this is how I feel.
I wonder, though… must it always be like this between us? This perennial knock-down, drag out street fight, where you always emerge the victor and I inevitably get wrapped around a tree in the forest like one of those stupid witch-on-broomsticks decorations everybody thinks are so clever.
Fetched up. Stopped in my tracks. Doused with a ice-cold bucket of wake-the-fuck-up water.
But now that the first two weeks of your month are in my rear-view mirror, March, and the worst (I hope) of the sweaty ordeal is behind me, I'm not as mad at you. In a strange twist, I'm actually grateful you're here.
In your visit each calendar year, there is a reckoning with my inner and outer worlds like no other—as if something reaches inside me and presses that red reset buttons on the electrical outlet of me after my circuits  had been blown.
When I think about it that way, March, I actually think you are more akin to a lifeline, than an adversary—jumpstarting me annually like a defibrillator.
Because as frustrating as you are, and as much as I resist you each year, you inevitably leave me better than you found me.
Isn't it ironic, that what began as an official grievance with you, is now turning into a letter of appreciation.

But then you know how stubborn I am, so perhaps you're not all that surprised.
Because of you, March, I rest more deeply this month than I do the entire year long. The collapse-on-my-face, boneless chicken, everything-can-wait, crystal-clear-on-what-matters sort of rest. The kind of rest that takes me WAY past my previous understanding of what true rest really feels like. You connect me with my body, leaving me more capable of truly caring for myself.
Because of you, March, my heart opens even wider to receiving—receiving love (from myself and others), help, guidance, clarity—and the medicine goes all the way down because my defenses are down. You connect me with what it means to belong and be loved, leaving me open to experience both more fully.
Because of you, March, I come closer to death (feel free to roll your eyes and call me dramatic, but that was one hell of a virus last week…), and has me touch that "what will people be saying about me at my funeral" question which inevitably has me cut through all the bullshit and noise in a busy life and gather to my heart all that is nearest and dearest. You connect me with the stuff that truly matters, leaving me with clear priorities rooted in my values, not my assumptions or expectations.
Because of you, March, I see how hard I had been paddling in a circle with one oar, and begin to trust in the wisdom of the things I cannot yet see, understand, know to want, or plan for. I just put it all down and look to be lead somewhere. I believe it's called surrendering. You connect me with my divinity, leaving me with a freshly-kindled spiritual fire.
Because of you, March, I see the crumbs and dog fur on the kitchen floor as reminders of good meals and groovy kind of love, and the stacks of laundry as testament to having had somewhere to go outside my home each day. You connect me with a powerful perspective, leaving me with gratitude where there once was resentment.
Because of you, March, my thoughts shift to those outside my own little world inside my head, and give me a renewed appreciation for the many gifts I have been given in this life—shelter, food, safety, love, education, opportunity—that so many others go through life without. You connect me with my humanity and my humility, leaving me more compassionate.
I guess it's kind of like that Rumi quote, isn't it March:

"The wound is the place where the light enters you"
(Yes, March, you are, in fact, the wound in this scenario….) But please hear me when I say that I am officially down with what you're doing over there. And while I'll probably forget we had this conversation, I dunno, eleven months from now…I will most likely meet you again with my fists up, resistant to everything about you and ready to rumble and do our dance again.
I won't ask you not to take it personally, because clearly it is. Happily, that fact doesn't seem to stop you from paying me a visit each year. Months are funny that way—they just keep showing up, ready or not..
Want to hear more stories like this?
It's not too late to grab a ticket for my Unscripted Evening coming on Thursday, March 15th. Still hungry? My book Unscripted: A Woman's Living Prayer is chocked full of stories like this, too. And wait until you read the second one I'm writing…

Are you someone who uncovers the truth inside you through writing?
You might be interested in my In Her Words writing experience coming up in April. It's less about what you write (quality), and more about the fact that it actually has you write (the process). It's one of my favorite groups to run, and it's the only one available to people outside the state of Maine. FMI, read more about it here, or reach out to me to see if it's a good fit.